The Battle in Seattle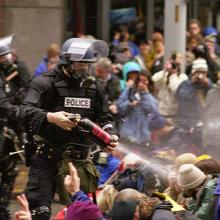 Writing in the Nov. 29, 2011 issue of The Nation, Norm Stamper, who served as Seattle's police chief during the 1999 World Trade Organization protests, says his "disastrous response" a dozen years ago should have been a cautionary tale. "Yet our police forces have only become more militarized."
"My support for a militaristic solution caused all hell to break loose," Stamper writes. "Rocks, bottles and newspaper racks went flying. Windows were smashed, stores were looted, fires lighted; and more gas filled the streets, with some cops clearly overreacting, escalating and prolonging the conflict. The 'Battle in Seattle,' as the WTO protests and their aftermath came to be known, was a huge setback—for the protesters, my cops, the community."