Batman shooting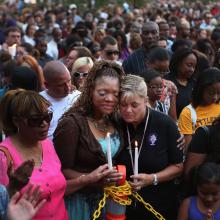 As a woman preacher, I can't help but love St. Mary Magdalene. She was the first witness to the resurrection. When I first discerned my call to be a preacher I got a tattoo of her on my forearm – it's from a rare depiction in ancient Christian art – of her proclaiming the resurrection to the apostles. I felt that when I needed to, I could borrow her strength. And since July 22 is her feast day, we decided weeks ago to ditch the normal Sunday readings and celebrate her as an important saint to us.
But then Friday happened. I was still in New Orleans when I saw the news of the shooting. After praying that you were all safe I soon thought, "we can't really hold a celebration of a saint today … it just wouldn't make any sense."
I had gone to New Orleans with an idea for a sermon on Mary Magdalene – a sermon about who gets to speak in the Bible and who gets to be named and blah, blah, blah.
And just as I was about to ditch it all and go with the regularly assigned reading for today, I went back and again read this story of Mary Magdalene at the tomb and realized, given the violence and terror thrust upon our community this week, that maybe Mary had more to say about it than I could. I decided again to borrow strength and voice from her. So were I a pastor who titled her sermons, this one would be WWMMP – "What Would Mary Magdalen Preach?"