ballot initiative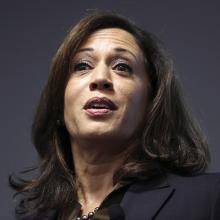 California Attorney General Kamala Harris asked a state court March 25 for an order allowing her to avoid processing a citizen-proposed anti-gay ballot measure that calls for executing gays with "bullets to the head."
Harris said the so-called "Sodomite Suppression Act" proposed and named by Huntington Beach attorney Matthew McLaughlin "not only threatens public safety, it is patently unconstitutional, utterly reprehensible and has no place in a civil society."
She filed an action asking the court for declaratory relief and judicial authorization allowing her to avoid issuing a title and summary for the proposal. An official state title and summary are necessary steps in authorizing a ballot initiative's sponsors to seek the signatures needed to be placed before voters.
Without the court order, Harris said she would be compelled by law to proceed with the measure, which would authorize the killing of gays and lesbians in the state.
Minnesota, famously, has just rejected a proposed constitutional amendment which would have barred same-sex marriage. The battle raged for a year, with Christians on both sides. The Catholic diocese was a primary proponent of the amendment, but many Catholics posted "Another Catholic Voting No" signs on their lawn. Episcopalians, Lutherans, and Methodists were also found on both sides of the battle, in leadership roles and at phone banks. Rarely did the discussion of the amendment stray too far from a discussion of faith issues, because it was faith that drove so many to either reject same-sex marriage or move to embrace it as a part of our larger community.
There were bruises and scars, of course, within congregations, families, and neighbors. To some, on both sides, it was a deeply personal fight.
Now, though, it is done. The amendment failed. Though my side won, the divisions created trouble me. As an Episcopalian working within a Catholic law school, I saw the pain of those on both sides.