Bah humbug
"I will honor Christmas in my heart, and try to keep it all the year. I will live in the Past, the Present and the Future. The Spirits of all Three shall strive within me."
– Ebenezer Scrooge from A Christmas Carol.
WILMINGTON, N.C. — 'Tis the season for "Bah Humbug" and "God bless us every one," especially as the world caps off a year of celebrations for the 200th anniversary of the birth of novelist Charles Dickens.
Starting this weekend as the Christmas season begins with Advent, cities will transform their streets to Victorian English landscapes with strolling carolers and stage different productions of Dickens' most famous yuletide work, A Christmas Carol.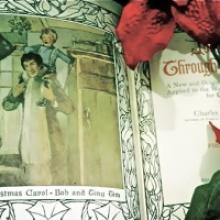 Scrooge calls Christmas a "humbug."
When his nephew tries to convince him otherwise, Scrooge responds:
"Merry Christmas! What right have you to be merry? What reason have you to be merry? You're poor enough."
The nephew retorts:
"What right have you to be dismal? What reason have you to be morose? You're rich enough."
The nephew concludes with this famous line about the holiday:
"Therefore, uncle, though it has never put a scrap of gold or silver in my pocket, I believe that it has done me good, and will do me good; and I say God bless it!"