aspergers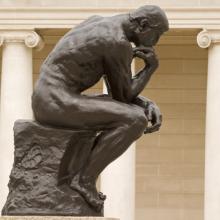 Amy is incredibly intuitive, and she enjoys a faith that I find sort of mysterious. This extends beyond God to faith in other people too: another quality I tend to lack. When I met her, she was already serving in ministry, while I hadn't darkened the door of a church in a decade. I got in trouble in church in the first place for doubting and questioning, which seemed to rub up against the more intuitive faith of those in my church at the time.
The message I got was that critical thought and faith simply didn't mix. But in the more "progressive" mainline churches, I found a space in which such challenging questions were welcome. Small wonder, I guess, that some folks view such denominations and churches as fomenting atheism beneath the cloak of Christianity.
It's interesting how certain patterns emerge in our lives sometimes. Part of it, I expect, has more to do with awareness than actual coincidence, like when I start seeing blue Pruises (Prii?) everywhere after buying one.
Yesterday I got a book in the mail called Breaking Their Will: Shedding Light on Religious Child Maltreatment by Janet Heimlich. And a couple of days before that I got an email through my website, which I'll share in a minute.
A while back I wrote a few pieces about my son, Mattias, who is dealing with Asperger Syndrome. The first was about when we told him about his special condition, and the second was about the less enjoyable side of Aspergers: the meltdowns. Third was one about his tendency to obsess his way into an emotional knot.
More than just telling the story of a rather remarkable kid, I try with these pieces to work through how to deal with such challenges, and hopefully, how to find God in the middle of it all. I think that both those affected by special needs and those who care for them need the assurance that they're not the only ones, and I know I always find encouragement from letters I get from folks who appreciate what I've shared.