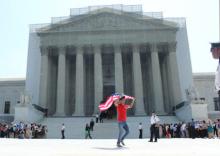 Arizona Gov. Jan Brewer may have ended the latest controversy in her state by vetoing a "religious freedom" bill that threatened gay men and lesbians, but the nation's legislatures and courts are just getting started.
While religious liberty remains a "core value" in Arizona, Brewer said Wednesday, "so is non-discrimination." And therein lies the balancing act that's at the root of several other disputes.
The answer isn't simple. Congress and the states often carve out exceptions for religious beliefs. The Supreme Court has consistently made room for religious exercise. And unlike race and gender, sexual orientation is not a protected class — yet.