arizona border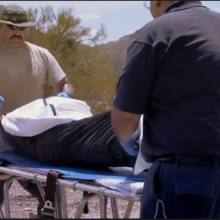 At the Full Frame Film Festival in Durham last week, I saw Marco Williams' new documentary, The Undocumented, which tracks migrants as they hike into the United States across the border between Mexico and Arizona, trying to escape the detection of border patrol agents, and trying to survive the deadly heat of the Sonoran desert.
The documentary follows a young man, Marcos Hernandez, as he tries to find his father, Francisco, who was last seen in the desert walking for days in the 120-degree summer heat. Francisco left their home in Mexico with a coyote — man he paid $2,000 to lead him across the border — to make enough money to pay for his son's expensive dialysis treatments. But he never called; he never returned. The coyote reported that he left Francisco in the desert because he was sick and couldn't keep up with the other migrants in the group. Marcos fears the worst — that his father died of dehydration, of heat exhaustion. But to confirm the death he has to find the body.
The filmmaker focuses on the morgue in Tucson, Ariz., where the medical examiner investigates human remains, looking for clues that would help identify the dead in order to return whatever is left to family members and friends, to provide some kind of closure, to honor the dead with a burial.
In the film, Marcos won't believe his dad is dead until he can see his dead body, or whatever is left of his body — a skull, teeth, his rib cage. He will not believe unless he can see.
"Unless I see the mark of the nails in his hands, and put my finger in the mark of the nails and my hand in his side, I will not believe" (John 20:25). That's what Thomas says to the other disciples about the resurrected Jesus; and what Thomas says about needing to see the body reminds me of the story of Marcos, about the need to see in order to believe.
There is no doubt in my mind that the border has religion.