archdiocese of new orleans
Political and religious leaders offered prayers for Rep. Steve Scalise and four others who were injured in a shooting during a GOP congressional baseball practice.
The Democratic team stopped their practice following the shooting on June 14 in Alexandria, Va.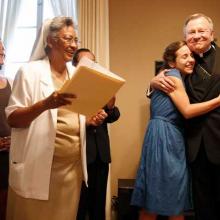 In what is being described as the first of its kind in the U.S., the Archdiocese of New Orleans has transformed a vacant church rectory into a group house where single women will live together while deciding whether to undertake lives as nuns.
The center, dedicated on Aug. 15, occupies the second and third floors of the St. Rita rectory. Within a few days, two women, then perhaps three more, will move into the spotless rectory, their collective lives to be superintended by two veteran nuns who will show the younger women the dynamics of shared community life.
"How we live in community. How to communicate. How to share," said Sister Carmen Bertrand, for 48 years a member of the Sisters of the Holy Family.
Beyond orienting them to the rhythms of community life, Bertrand and her colleague, Sister Diane Roche, a Religious of the Sacred Heart, will teach the tenants various modes of prayer, organize occasional retreats, and bring in representatives of other religious orders to present themselves and their ways of life.