An Appetite for Wonder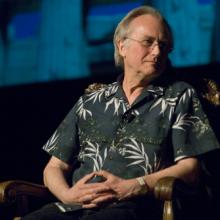 First things first: with all due respect to interim host John Oliver, I for one am thrilled to have Jon Stewart back on The Daily Show. I know it is sad to say, but I actually missed him while he was on summer hiatus. Welcome back, little buddy!
Last night, Stewart interviewed Richard Dawkins, author of The God Delusion, who was promoting his newest title, An Appetite for Wonder. The most interesting moments in the interview revolved around Stewart's question to Dawkins about whether science or religion ultimately would be responsible for hastening our journey down this path of apparent self-annihilation. What followed was a fascinating, if not entirely satisfying, dialogue about the "downsides" of both disciplines.