anti-islamic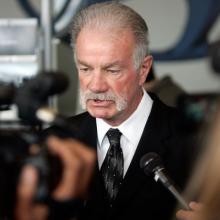 When inflamed mobs stormed the U.S. embassies in Libya and Egypt on Tuesday, the media quickly looked to a likely spark.
Florida Pastor Terry Jones ignited deadly riots by threatening to burn Qurans in 2010, and by torching the Islamic holy text last year. Recently, Jones said he would promote a crude film that portrays Islam's Prophet Muhammad as a foolish sexual pervert.
But in the days before the protests, Jones made no public mention of the film — called Innocence of Muslims — even as he prepared to stage an "International Judge Muhammad Day" on Sept. 11.
Instead, the man who translated the film into Arabic, sent it to Egyptian journalists, promoted it on his website and posted it on social media was an obscure Egyptian-born Coptic Christian who lives near Washington and proudly touts his ties to Jones.