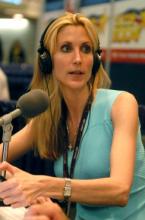 Prominent conservative voices are criticizing the decision to bring two medical missionaries who contracted Ebola back to the United States for treatment.
Real estate mogul Donald Trump and retired neurosurgeon Dr. Ben Carson were both critical of bringing the infected missionaries back to the U.S. Columnist Ann Coulter went further, questioning why the missionaries were working in the "disease-ridden cesspools" of Africa.
Dr. Kent Brantly, with Samaritan's Purse, and Nancy Writebol, with Service in Mission, are medical missionaries who were infected with Ebola while working with patients in Liberia. They are being treated at Emory University Hospital in Atlanta.
"If Dr. Brantly had practiced at Cedars-Sinai hospital in Los Angeles and turned one single Hollywood power-broker to Christ, he would have done more good for the entire world than anything he could accomplish in a century spent in Liberia," Coulter wrote in a column.
But the professional provocateur is facing a backlash from the mainstream Christian establishment, especially evangelicals, for whom overseas missionary work is an article of faith.