animal collective
It seems rare these days to find an album where each song is valuable both individually and as part of the collective whole that makes up the record. Musicians are always telling us that they "don't want to make just a few good singles with filler," but few are able to fulfill those lofty intentions. Wilco did it on Yankee Hotel Foxtrot, where the songs were different from themselves and anything Wilco had ever done in the past, and Animal Collective did it more recently on the 2009 album Merriweather Post Pavilion with the opposite approach: each song was unified by a cohesive and consistent sonic palette. Many point to Fleetwood Mac's 11th studio album Rumours as another example, and there are surely others depending on one's musical tastes.
But I think a newer, much lesser known group has entered that conversation, and they've done it on their first studio release, nonetheless. Brooklyn-based Lucius have managed to craft an album with diverse songs, catchy hooks, and really powerful vocals and harmonies stick in your head for days. There isn't a song on their debut, Wildewoman, I want to skip through. Bob Boilen of NPR's 'All Songs Considered' perhaps says it best when describing their EP: "If it were possible to wear out a digital file, then my copy of Lucius' self-titled 2012 EP would now be scattered digital bits."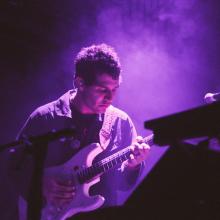 Oddly enough, whenever I think about eternal life, Animal Collective come to mind.
That might — well, almost certainly will — need some clarification because, as many Christians might be quick to point out, shouldn't Jesus be the first person that comes to mind, or maybe living on some clouds in a golden city or something?
Yes and no. What comes to mind when I think about eternal life is painted by Frederick Buechner's entry on the subject in his book Wishful Thinking, which I studied for a class in college. Buechner takes religious terms and eloquently and poetically explores what they might mean.