Angola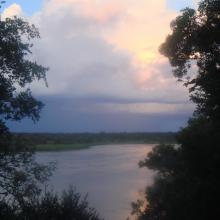 For those who are students of Africa, the Caprivi Strip of Northern Namibia brings memories of the awful border wars and independence struggles of the 1970s and 80s. Perhaps the lessons apply to Israel and Palestine.
Ironically, one of the last and longest, most peaceful and unpolluted rivers in the world is the Okavango. It is the border between Namibia and Angola where still today a long stretch of the north bank Angolan farmland is mine infested. Large breem and tiger fish jump, and magnificent fish eagles take flight from trees on the Namibian bank and wing to large dead trees in Angola where hippo provide background music with loud braying. The behemoths make their way back and forth and often spend the early evening hours lounging on the beach in front of the main buildings of the River Dance Lodge near Divindu on the southern shore.
This gently lapping, wide, drinkable stream — that creates in nearby Botswana the amazing Okavango Delta — is bordered by Angola, Namibia, and Botswana. The crystal clear ribbon of nearly 500 miles of uninterrupted resource runs just a few yards under my feet a quarter of a mile across from where the Angolan fields and forests were the hiding place for Jonas Savembi before he was killed in 2002. His South African- and American-supported troops were routed by Jose Eduardo Dos Santos, the socialist leader of UNITA and president since 1979. We can see homes there that have been vacant since the war because local farmers fled the fighting. Kavanaga tribal tradition requires people to not dwell in places where violent deaths have occurred. Ethnic tribal relations are still tense between the Portuguese-speaking Angolans and the English/German-speaking Namibians, even though they are from the same ethnic group. The horrific memories of vicious cross-river raids and shelling persist.