american ideals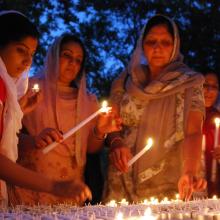 Imagine the terror.
You are in a temple, a safe, sacred place, preparing for a morning service. In the kitchen, you are busy cooking food for lunch, while others read scriptures and recite prayers. Friends begin to gather for the soon-to-start service.
At the front door, you smile at the next man who enters. He does not smile back. Instead, he greets you with hateful stare and bullets from his gun.
Such was the scene Sunday at a Sikh gurudwara in Oak Creek, Wis., just south of Milwaukee, where a gunman, Wade Michael Page, killed six and critically injured three others before being shot down by law enforcement agents.
As Page began his shooting spree, terrified worshippers sought shelter in bathrooms and prayer rooms. Rumors of a hostage situation surfaced, and those trapped inside asked loved ones outside not to text or call their cell phones, for fear that the phone ring might give away their hiding place.
The first police officer to arrive on the scene stopped to tend to a victim outside the gurudwara. He looked up to find the shooter pointing his gun directly at him, and then took several bullets to his upper body. He waved the next set of officers into the temple, encouraging them to help others even as he bled.
That magnanimity is a common theme among the stories of victims and survivors of the Wisconsin shootings. Amidst terror and confusion, Sikhs offered food and water to the growing crowd of police and news reporters outside the gurudwara as part of langar — the Sikh practice of feeding all visitors to the house of worship.
In the wake of the tragic bombing in Norway this past weekend, we are left with an unsettling picture of the state of anti-Islamic sentiments in the United States. There were broad attempts to blame the bombings on Islamic terrorism before all of the facts of the attack were out, and even after the attacker became known as Anders Behring Breivik, a self-proclaimed Christian extremist, the discussion focused on Breivik's statement that he was responding to the threat Muslims pose in Europe.