american academy of religion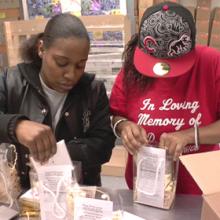 This is Giving Tuesday, when nonprofits of every stripe hope to attract some of the billions of dollars to be spent during the Hanukkah and Christmas season.
Many of those dollars will go to religious groups. Now, new research is expanding the meaning of "religious giving." It counts motivation for giving, and measures not only gifts to houses of worship but also donations to faith-connected nonprofits that are doing secular service such as fighting poverty or offering job training for the disabled.
"Most people cite their religious commitments, but most also cite the belief that they should give to benefit others. Many people hold both these impulses at the same time," said Shawn Landres, a co-author of the research report, "Connected to Give: Faith Communities."
It had been a busy semester and the Tuesday before Thanksgiving I arrived back home from an exhausting American Academy of Religion meeting.