Alfie Kohn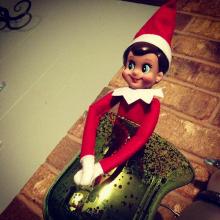 It's taken me a few years, but I've decided to relax about him. I refuse to beat myself up over his presence anymore. He's okay. I mean, don't get me wrong — he's annoying and I have concerns. And I know that many of my fellow parents will disagree, and that's okay. This makes me cringe, but that little Elf on the Shelf can stay.
After some debate, my wife bought the Elf on the Shelf in 2010. If you aren't familiar with the Elf on the Shelf myth, it goes something like this: Apparently Santa is incapable of knowing if children have been bad or good on his own, so Dec. 1 to Dec. 24 that Jolly Old Elf sends his little elves to houses to spy on boys and girls. Their job is to check to see if children are being naughty or nice. So, each morning before anyone is awake, our Elf flies in from the North Pole and hides in a different spot in our house. When our children wake up — noticeably earlier in December than any other month — they look for him. Yup, it's hide-and-seek every morning with the Elf. Then, the National Security Agency Elf spies on our children throughout the day. When our children fall asleep at night, the Elf flies back to the North Pole to provide Santa with a report on how our children have behaved. Then the Elf promptly flies back to our house, hides in a new place, and the morning hide and seek ritual begins again.
Truth be told, my children love it. They. Love. It. They can't wait to wake up in the morning and search for that little Elf.