albums
At the 2012 Wild Goose, for an afternoon set at a tent tucked away on the backwoods of the festival site, a young North Carolina band blew minds and won fans. More than just a band — more like a multicolored movement of sonic jubilee — David Wimbish and the Collection carry the celebratory consciousness, lyrical significance, and live energy that have made bands like Mumford & Sons or Edward Sharpe & the Magnetic Zeros the darlings of the current folk-pop moment.
In August 2013, the Collection will open this year's festival on the main stage with a Thursday night set sure to thrill us. Then, they will support Phil Madeira's Friday night set. In the meantime, the Collection are furiously raising funds on Kickstarter for their next album, a surprisingly hopeful take on death called Ares Moriendi. I recently caught up with David Wimbish and convinced him to take a break from writing, recording, fundraising, and preparing for Wild Goose to answer a few questions.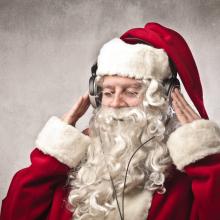 Christmas is less than two weeks away, and even though most of us probably started cranking the Christmas tunes the day after Thanksgiving, here's a look at some of this year's best Christmas compilations so you don't overplay, say, Amy Grant's classic 1983 Christmas Collection.