African-American voters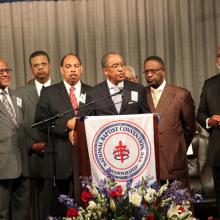 African-American clergy are joining forces with civil rights groups to push for increased voter registration ahead of the November election, spurred on by new voter laws they say restrict opportunities for minorities to enter the voting booth.
"We must vote because we must counteract the corrupt and diabolical strategies of those who are trying to take away our vote by passing laws to suppress and diminish our voting rights," said the Rev. Julius Scruggs, president of the National Baptist Convention, USA, at a news conference Wednesday (Sept. 5) during his denomination's Annual Session in Atlanta.
Scruggs, leaders of the National Association for the Advancement of Colored People and top officials of four other black Baptist groups gathered to rally against the new laws and continue longtime efforts to get blacks registered to vote.
More than two dozen new voter laws have passed in 19 states since 2011, according to the Brennan Center for Justice at New York University School of Law. Some have been overturned but others remain on the books, such as a voter ID law in New Hampshire and proof of citizenship requirements in Alabama, Kansas and Tennessee. Proponents say they prevent fraud, while opponents say they are reducing access to the polling booth.
The voting laws — through which some states have reduced early voting or required government-issued identification to enter the polls— have changed some of the clergy's voter education initiatives.