adventis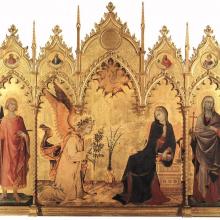 In the sixth month of Elizabeth's pregnancy, God sent the angel Gabriel to Nazareth, a town in Galilee, to a virgin pledged to be married to a man named Joseph, a descendant of David. The virgin's name was Mary.
The beautiful anonymity and soft innocence of a young girl in Nazareth would be stripped by an angelic visitation. Who could ever envision the global veneration soon to commence? This Holy Virgin of Martini's masterpiece cannot be Mary's vision. The gilded, enthroned Mother of God, Blessed Virgin, Theotokos, Panagia. Millenia of adoration blurs the humanity of such a terrifying moment in the life of a child.
The angel went to her and said, "Greetings, you who are highly favored! The Lord is with you."
Gabriel's praise for her resounds the Earth this Advent Season. Martini paints the words spouting from Gabriel's mouth, invading Mary's space. Her shoulder shrug speaks to Luke's revelations of her humanity. The Gospel record exposes her vulnerability and reluctance to embrace such a startling event.