advancements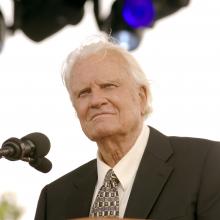 The following is from a letter by Billy Graham posted recently on the Billy Graham Evangelistic Association website:
"Some years ago, my wife, Ruth, was reading the draft of a book I was writing. When she finished a section describing the terrible downward spiral of our nation's moral standards and the idolatry of worshiping false gods such as technology and sex, she startled me by exclaiming, "If God doesn't punish America, He'll have to apologize to Sodom and Gomorrah."
She was probably thinking of a passage in Ezekiel where God tells why He brought those cities to ruin. "Now this was the sin of … Sodom: She and her daughters were arrogant, overfed and unconcerned; they did not help the poor and needy. They were haughty and did detestable things before me. Therefore I did away with them as you have seen" (Ezekiel 16:49–50, NIV).
I wonder what Ruth would think of America if she were alive today. In the years since she made that remark, millions of babies have been aborted and our nation seems largely unconcerned. Self-centered indulgence, pride, and a lack of shame over sin are now emblems of the American lifestyle."
Yes, there are plenty of examples to support the case Graham is making, but is it fair or accurate to suggest that all points indicate a fundamental moral decay?