admiral mike mullen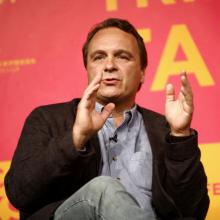 A recent Gallup poll shows that 81 percent of Americans want the President to be focused on domestic issues, while 9 percent say they want him to focus on foreign policy issues. Not too surprising ... until you consider that the fastest growing domestic priority is the deficit (69 percent).
The lopsided number between the importance of the deficit and the importance of foreign policy is the first clue that, for most Americans, there's a disconnect between domestic policy and foreign policy.
Clue number two is a bit more alarming.
The same poll indicates that 54 percent favor a "strong" stance — read: military attack — against Iran versus 39 percent who say that it's more important to avoid a military conflict with Iran. Put these facts together and a disturbing picture emerges: the less Americans care about foreign policy, the more willing they are to go to war, and the less they're able to see that war = skyrocketing deficits.
The disconnect couldn't come at a worse time.
It's funny the things that you remember. I can remember one time when I was a teenager watching an episode of the Montel Williams show. I don't remember the topic, but I do remember Montel criticizing the U.S. government for spending too much money on military defense and not enough on domestic needs. I remember thinking to myself, "That's the stupidest thing I've ever heard." In the world that I knew, the idea of slashing military spending was absolutely, totally, utterly UNTHINKABLE! I personally had never met anyone who thought that way, so I assumed that anyone who would suggest such a thing had to be either a) naive; b) stupid; c) a tree-hugger; or d) unAmerican.
That was then.
I don't know if it's because I changed or because America has changed (or both), but for years it seemed like the only ones who suggested slashing military spending were groups that few Americans could identify with: like hippies, pacifists, environmental and civil rights activists, and conspiracy theorists. Today, the idea that a significant portion of the nation's economic woes is due to wasteful Pentagon spending can be found both on the left and on the right ends of the political spectrum. It can also be found in the Pentagon.
Meet "Mr. Y."