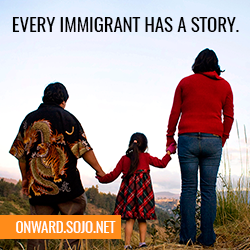 Jesus calls us to a simple act – to "welcome the stranger"– or the "sojourner" – in our midst, as if we are welcoming Christ himself. It's a simple call – but challenging. People of faith have a unique opportunity to push forth this powerful moral imperative. Together we can help shift the hostile climate that is unfolding around immigrants.
It all begins with promoting constructive dialogue about immigration in our churches and other gathering places. To do that, we are proud to launch a new set of free resources – documentaries, discussion guides, audio stories, and more – called ONWARD for Sojourners.
ONWARD combines stories about real people with data that can help you shine light on what your community can do together to "welcome the stranger."
If you've ever wanted to share with a friend, family member, or faith community why immigration reform is so important, ONWARD is for you.