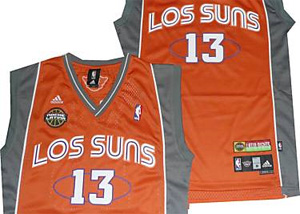 Steve Nash and the Phoenix Suns are a fun team to root for. They score a lot of points in an open style of basketball. Assists, points, and cheers abound in most of their games. Now it is even better. They are wearing their "Los Suns" jerseys tonight in game two of their series with the San Antonio Spurs to show support for the Latino community in Arizona.
No reports on how the police are going to interpret this -- maybe they will ask each player for their papers. If the Suns lose, will the police department be sued by a public outraged by the lack of checking the papers of star Spurs guard, Tony Parker, a Frenchman, or star Spurs forward, Manu Ginobili, an Argentine? I know if they do, tearing up the Suns, I would want their papers checked. Get them out of the country or at least the game.
Nash, a Canadian citizen, will have to take care to carry his papers as well. Hopefully, Los Suns have taken this into account and made a special pocket so Nash and fellow teammate, Leandro Barbosa, can carry their papers.
All of which highlights the insanity of the Arizona's new immigration law.
All we can say is, "¡Viva Los Suns!"

Ernesto Tinajero is a freelance writer in Spokane, Washington, who earned his master's degree in theology from Fuller Seminary. Visit his blog at beingandfaith.blogspot.com.
+Ask the U.S. Senate to pass national immigration reform this year
Got something to say about what you're reading? We value your feedback!