As a retired UCC pastor, I felt comfortable with Tom Allio's well-done essay on Pope Francis ("No Longer the 'Best Kept Secret,'" July 2014). All Protestants can be inspired by this teaching. I have read the "The Joy of the Gospel" and find it heartwarming. Yet the essay missed the foundational teaching on which all else depends. It is found on the first page: "I invite all Christians, everywhere, at this very moment, to a renewed personal encounter with Jesus Christ, or at least an opening to letting him encounter them." The pope is calling his church, and mine as well, to evangelism, sacred work that certainly includes social justice and would not be true to the gospel without it.
Rev. Luther C. Pierce
Gainesville, Florida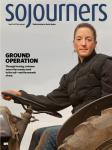 This appears in the September-October 2014 issue of Sojourners
Got something to say about what you're reading? We value your feedback!