Thank you for Randall Balmer's article on the rise of the New Atheism ("Losing My Religion," June 2014). Not only did I find it a well-reasoned and thoughtful commentary on where we are today, but I would also commend it both to those who came of age after the Carter/Reagan years and for those who are continually urged into complicity through the bully pulpits of our day. I wish it was required reading in my hometown.
Stephen Baker
Wheaton, Illinois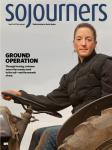 This appears in the September-October 2014 issue of Sojourners
Got something to say about what you're reading? We value your feedback!