Thanks so much for publishing David P. Gushee's excellent "The Stubborn Persistence of Jew Hatred" (July 2014). Few people realize that one way "Jew hatred" continues to be perpetuated among Christians is through Sunday morning Bible readings proclaimed during worship. The many churches now using the common lectionary, for example, are enjoined to read more than 40 passages with an anti-Judaic tone in its three-year cycle.
In a modest effort to counter this "pulpit anti-Judaism," the website "Sermons Without Prejudice" identifies these "perilous passages," points out their potential harm, and offers alternative wordings. We look forward to the day when Christians finally will reject "Jew hatred" and learn to affirm Christianity without faulting Judaism.
Dick Taylor
Philadelphia, Pennsylvania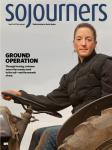 This appears in the September-October 2014 issue of Sojourners
Got something to say about what you're reading? We value your feedback!