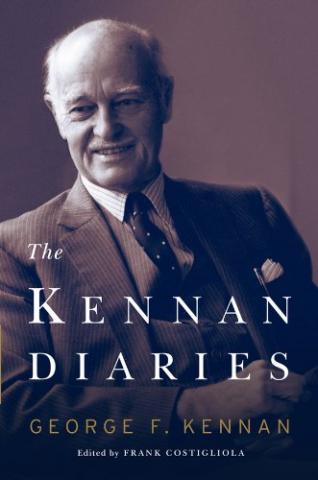 THE KENNAN DIARIES, carefully edited by Frank Costigliola, a University of Connecticut historian, covers an amazing and sometimes disturbing 88-year period of personal journal-writing by George F. Kennan, who became the most famous diplomat-intellectual of the 20th century.
Born in 1904 (he died in 2005) Kennan, a Milwaukee native, grew up in an upper-class Scotch-Irish Presbyterian family with three older sisters and a father who was a tax attorney.
After graduating from Princeton, Kennan became a Foreign Service officer with the State Department, eventually serving in posts throughout Europe. But Kennan's first love was Russia. He wrote in his diary that "he had a mystical connection to Leningrad, as though he had once lived there." He was offered a three-year university stint in Berlin by the State Department—Kennan's boss wanted him to be educated like a pre-Bolshevik Russian gentleman. Kennan's grasp of the Russian language and history became exceptional. Together with his prodigious analytical skills, it would be the foundation of his brilliant career.
After 20 years abroad, Kennan fired off his famous 5,540-word "Long Telegram" on Feb. 22, 1946, from Moscow to Washington. Soon afterward, in July 1947, he wrote another piece in Foreign Affairs under the byline "X." In the two pieces he said that the Soviets under Stalin would try aggressively to expand, but that the U.S. should not employ military means to stop them. Instead, Kennan advocated "containment," heavily monitoring the Russians with hard-headed diplomacy and tough talk. He also stated that the Soviet Union would eventually self-destruct.
Kennan became famous overnight and was appointed to the State Department's U.S. Policy Planning Staff. He also worked closely with Secretary of State George Marshall in developing the Marshall Plan, which put Europe back on the road to recovery.
Containment became the guiding foreign policy approach toward the Soviet Union during the long Cold War period until 1989, when that country broke apart, as Kennan had predicted. But over the years Kennan became increasingly angry that his definition of containment was reworked by Washington defense hawks to justify huge increases in U.S. military spending. He was a passionate opponent of McCarthyism. He became a strong voice for disarmament and vigorously decried the Vietnam War, working with William Sloane Coffin. He was dubbed a "dove." In 1997, Kennan was deeply disturbed when President Bill Clinton expanded the NATO Alliance eastward to include Poland, Hungary, and the Czech Republic, protesting that "this would provoke Russia into a new Cold War." Clinton ignored Kennan's concerns.
Kennan also had strong views on Ukraine. "In 1948, he wrote a memo saying that Ukraine's role was similar to that of our own Midwest," said Costigliola in a recent phone interview. "He felt that Ukraine was just as important to Russia, because of its key agricultural economy, as the Midwest was to the U.S. I think Kennan would have approved of President Obama's handling of the current situation—sanctions and tough talk, but not military action."
But this brilliant political prophet also had a dark side. Kennan helped set up the "covert operations unit" of the fledgling Central Intelligence Agency. "Probably the worst mistake I ever made in government was to accept responsibility for giving this sort of guidance to CIA," wrote Kennan, who was not involved with the CIA after 1950, according to Costigliola. The CIA went on to manipulate elections abroad, topple democracies, and plot assassinations.
Kennan's diary is also filled with vitriolic remarks about the U.S. and its people. Kennan writes, for example, that the states of California, Texas, and Florida (with large Latino populations) are "places where not one single thing of any importance is being said or done." He makes similar comments about Italians and blacks. He has been often criticized for writing little about the plight of the Jews during the Holocaust even though he was serving during these years in the heart of the war-ravaged region. (He had not predicted that Hitler would come to power.)
Kennan remains a complicated figure. Costigliola, who also wrote Roosevelt's Last Alliances: How Personal Politics Helped Start the Cold War, has written that "the Cold War was not inevitable," and Kennan's legendary role in it will be closely analyzed by generations of scholars. 
Anne Colamosca is a former staff writer at Business Week and has written for many national magazines and newspapers.