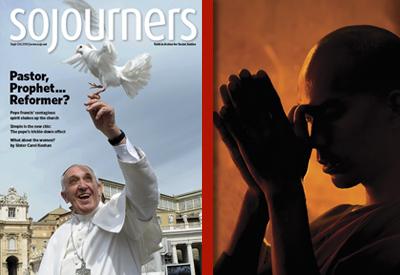 When the Pharisees heard that [Jesus] had silenced the Sadducees, they gathered together, and one of them, a lawyer, asked him a question to test him. "Teacher, which commandment in the law is the greatest?" He said to him, "'You shall love the Lord your God with all your heart, and with all your soul, and with all your mind.' This is the greatest and first commandment. And a second is like it: 'You shall love your neighbor as yourself.' On these two commandments hang all the law and the prophets." —Matthew 22:34-40
FAITHFUL PEOPLE are often stubborn people. Cambodian Buddhists are no exception. Truth-seekers in Cambodia sometimes spend a year living as beggars. They walk from village to village, trying to avoid the millions of remaining land mines. Their only possessions are a bright orange robe and a beggar's bowl. After the ravages of Pol Pot and the Khmer Rouge regime, which dismantled community trust one forced-labor camp at a time, one might think the Buddhists would write off this ancient tradition, for no other reason than that it is grounded in the blind trust of perfect strangers. But faith, as Jesus taught, needn't be any larger than a mustard seed. No regime, regardless how brutal, can eradicate faith.
This Cambodian Buddhist tradition of giving your entire well-being over to a community of strangers is one that has something to say to those of Christian faith. Giving yourself over to poverty, over to those who don't know you from Adam, must change a person. After spending a year as an intentional beggar, as theologian Barbara Brown Taylor notes, you'd be hard pressed to differentiate yourself from all those "others" we tend to pity, fear, admire, or despise.
EMBODYING THE commandments is essential to the Christian faith. Perhaps that's what makes Jesus' words in Matthew 22:34-40 so difficult to swallow. Much of what Jesus says is bothersome not only to the caricatures of Pharisees and Sadducees in the gospels, but also to each of us as we continue to discern what it means to be faithful followers of God.
U.S. citizens aren't the only ones who can morph a four-page Constitution into some 800,000-odd pages of codified law. By the time we get to the first century when Jesus lived, the Ten Commandments had been expanded into hundreds of separate rules and regulations.
It may seem more complicated, but it's easier to live as a sort of automaton merely following rules: Clean and unclean. In and out. Good and bad. Saved and unsaved. Black and white. Legal and illegal.
Religion can become a tool, a moral code by which to measure good citizenship. But Jesus reminds the crowd that life is not clear-cut. He seems to simplify the faith that people worked so hard to make complex. But as is often the case with what Jesus says, it isn't so simple.
Jesus invites us to see the world not through the lens of a "must do" list or as a moral imperative that we are to guilt others into following, but to see life in all its complexity and grayness. It's often the simple mandates that complicate life. Just ask anyone who has been forced to rely on strangers for their sustenance. How would you define who you are when your social status no longer has any real meaning?
In the exchange depicted in Matthew 22, Jesus says "the faithful" are not defined by how well they uphold every rule. He suggests it is not the business of religion to determine who is good and who is bad. "The faithful," Jesus maintains, are defined by how much we love God with that same stubborn commitment with which God loves us. And that is determined by how much we love our neighbors. According to Jesus, the term "neighbor" refers to all those we may consider "other": immigrant, soccer mom, inmate, CEO, addict, elected official—all those that, if we were to spend a year living as beggars, we would discover are actually the hands and feet of the very God we serve.
What might this mean for Christians in the midst of a political battle over immigration reform? What can we bring to a conversation that often seems to hinge upon the objectification and commodification of human beings? Is it really a victory when those who champion immigration reform do so based mainly on economic rationale or merely to appease a current and future voter bloc? Is it a victory when some claim to be standing on high moral ground by adding yet another rule to follow as proof of one's credentials as a "real" or "good" Christian? When we act like that, we risk yielding to the very temptation Jesus warned of long ago.
At our best, what we bring to the table is something much like the paradox of faith itself, which is at once uniquely Christian and incredibly universal. As we continue to debate immigration reform, here are five signature gifts of faith Christians can offer to the conversation and to the work ahead:
1. Grace. Grace cannot be a neglected tenet of our life together. While grace is not earned, it must be attended to and accepted. When grace, through embodied gratitude, is lived out through our lives as baptized communities, no one remains invisible. But that's no easy task. It takes love and devotion. It takes viewing grace as a kind of spiritual discipline that merits keen attention.
In relation to comprehensive immigration reform, grace plays a significant role. Even as studies suggest that the church is diminishing in its formal power within the U.S. landscape, we have an opportunity to claim the informal power that only grace gives us the freedom to assume. What better space for Dreamers to meet, for asylum seekers to find respite, and for immigrant-owned cooperative businesses to get off the ground? The church—attending to the margins, looking to make those whom society would deem "invisible" visible, living out our gratitude to God for the grace bestowed upon us—permits power to be generated in the most unsuspecting places. May we remember and live into the power of the grace received as baptized children of God.
2. Relationship. A second offering is that of humanity grounded in a relationship with God, who has chosen not to be God without us. In immigration dialogue, we often talk about numbers, economic impact, and moral imperatives. We often divorce the debate from its human frame and dehumanize a very human tragedy. Or we interject an illustration that feeds the framework of economic benefit and moral imperative. In seeking to be faithful, however, we must deeply uphold the theological belief in a triune God and speak powerfully in the language of relationship.
Jewish philosopher Martin Buber lovingly implores us to speak of God through the relationships we have with others. As we discuss the work ahead, we would do well to heed his invitation. We can dismantle cold facts and myths, replacing them with lived relationships.
3. Acceptance. As Christians, we also offer acceptance. The arrangement of society often incentivizes racial and cultural differences. No immigration reform package will eradicate that arrangement. As such, we must offer an alternate vision—one of inclusion and embrace.
As theologian Miroslav Volf reminds us, our very future relies upon how we deal with identity and difference. Our task is one of offering God's "kin-dom" vision to a broken world, one that embraces otherness and lives into reconciliation. Whatever we have to say about immigration reform, as Christians we understand that the work is fundamentally about acceptance.
4. Forgiveness. With acceptance comes forgiveness, another unique contribution we can bring to the conversation. Forgiveness is a practice that reconciles and renews relationships broken by sin. In a world of anger, revenge, and narcissism, it is this kind of forgiveness that scholar L. Gregory Jones describes as "love in spite of," offering transformation for victim and offender alike.
5. Community. This community, or life together, is the fifth gift Christians bring to the work ahead. Orthodox priest Alexander Schmemann described the world in sacramental terms. In Schmemann's liturgical theology, the church is a sacrament to the world, and through the church God reveals God's presence to humanity and has fellowship with creation.
No other space in our culture fosters such fellowship. Sociologists warn us of the impact of fragmented communities. Whole swaths of suburbs and exurbs have no sidewalks or front porches, and we have become so isolated that we rarely entertain others in our homes. Regardless of what happens to immigration reform, the U.S. landscape will only be different if we take seriously the role of the church as sacrament to the world, if we maintain the message of the Lord's Table at which Christ is both host and guest, and if we see who we are called to be—a communion and community of mutuality.
In an era when we've forgotten how to be communal, we need the help of others, namely immigrants, to resurrect our past and reteach us how to be community. Immigrants, many of whom come from cultures in which community is vibrant, can help rekindle our connection to those beyond the confines of our homes and help revive our churches and communities.
IF JESUS were here in body, I would be one of the first in the room to encourage him to sweep in reform today and, in so doing, make life much simpler. In response, I'd venture to say, he would likely sigh and state, "'You shall love the Lord your God with all your heart, and with all your soul, and with all your mind.' This is the greatest commandment. And a second is like it: 'You shall love your neighbor as yourself.'"
After this, he would probably hand me a bright orange robe and my beggar's bowl, bidding me safe journey for the path ahead.
Stacy Martin is vice president for external relations at Lutheran Immigration and Refugee Service. This article is adapted from her presentation at the January 2013 annual meeting of Christian Churches Together in Austin, Texas.