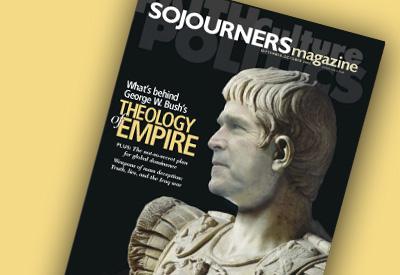 Anita Roddick was the founder and chief executive officer of The Body Shop, which sells environmentally and socially sensitive skin care products. Now free from management responsibilities—though she remains a major shareholder and board director—Roddick devotes her time to social change. This spring she published two books, A Revolution in Kindness (as editor) and Brave Hearts, Rebel Spirits: A Spiritual Activists Handbook (with Brooke Shelby Biggs). Sojourners executive editor David Batstone interviewed Roddick in San Francisco.
David Batstone: The message from your new books is not what you expect to hear from the CEO of a major retail corporation.
Anita Roddick: Once I separated myself from The Body Shop, I wanted to get some ideas out. It's very hard in business to be listened to when you talk about revolutionary ideas; it's even more difficult to do so as a woman. The market found it hard to believe us, for example, when we claimed that business has to move beyond an obsession with the bottom line.
Batstone: Was that just rhetoric at The Body Shop?
Roddick: Absolutely not. I was never interested in how big our company could grow, but how brave we could be. The investment bankers talked about profits, but we talked about principles. It all comes down to where you put your material resources and energy.
Batstone: What lessons did you learn while building The Body Shop that are relevant to social activism?
Roddick: I learned that when enthusiasm comes from the heart, it is unstoppable. After the fall of the dictator in Romania in the 1980s [Nicolae Ceausescu], our company set up a project to help the country's appalling orphanages. Romanian women had been forced to have three or four children that would be raised to serve as soldiers or workers for the state. Over the next 10 years, thousands of our staff went to volunteer there; some would pay their own money to go, others won awards. These workers came back transformed, because experiences of real kindness will change a person's values. It's really hard to bring spirituality into work. But it can happen when we view spirituality as service to the weak and the frail.
Batstone: The Body Shop at times was criticized for not living up to its ideals. Why did that happen?
Roddick: Nearly all of the accusations could be traced to a corporate stalker. For nearly five years this individual tracked me. He made his money by fighting everybody in the social responsibility movement—Ben & Jerry's, Odwalla, Working Assets. He was very clever. He would exploit any mistake or oversight that I made. He also would manufacture falsehoods—like when he said we were doing animal testing—and the media would print these accusations. For a while, England [where The Body Shop began] was ready to topple me off the pedestal. Looking back, I can see that we were really ripe for that. We were putting our head above the parapet and challenging everything. So we probably deserved to be slapped around a bit.
Batstone: How did you deal with that?
Roddick: Communication. Just about every day I wrote personal essays to our local shop owners. It was hard for them to see such negative things about their company in the newspapers.
Batstone: So you have long practice as a writer! What motivated you to write about kindness?
Roddick: It was the result of something that happened to me in America. I had written a book about corporate globalization, and it was released the week of the 9/11 tragedy. On the front cover of the book I had included a tagline, "globalization and how to fight back." So we stopped the release and shredded the cover. In its place, I wrote that we had to move toward a revolutionary kindness.
Batstone: You describe one of your books as a spiritual activists handbook. Do you have a religious background?
Roddick: Yes, Catholic.
Batstone: Is your faith still relevant to you?
Roddick: Absolutely. I'm in awe of liberation theology; that is where my heart is. I follow the great spiritual leaders like Jesus and Buddha who actually get their hands dirty. I do feel ashamed of the church at times. All that gold they stole from native peoples in the Americas, for instance. I think they should give it back. But that doesn't make me cynical. I'm moved by individuals that can polish their feelings of outrage over wrongdoing and do something positive about it. Many of us talk about kindness at great length but don't do anything. Our kindness has to be fierce.
Batstone: What does fierce kindness look like?
Roddick: It has to be bigger than the personal, and more than random acts. It is not satisfied unless human rights and social justice are present.
Batstone: Are you setting up an organization to apply the principles that appear in your books?
Roddick: No, there are enough great groups out there already that I can support. My books are more about education. Before I wrote this book, I didn't know anything about the Berrigan brothers, for example, and their 20 years of jail for peace activism. It was these kind of people I wanted to bring onto the radar screen.
Batstone: What quality do social activists lack?
Roddick: I'd like to see more of a focus on aesthetics. Any form of dissent has to have a sense of the carnival. If this is the world we want, it has to be full of joy and laughter. We also have to reclaim our language. Have you ever noticed how economic values supersede every other human value? We say, "How much have I invested in this relationship?" as if that's what is most important. Our language often tips us off to where we need some soul work.