As NATO governments begin the reconstruction of Kosovo, they should take lessons from the Marshall Plan that followed World War II. In the late 1940s the United States invested massively in rebuilding war-torn Europe, helping both allies and former enemies recover economically and become functioning democracies. The strategy was a success that laid the foundation for prosperity and cooperation and helped secure the peace in Western Europe for more than 50 years. No less an effort is needed now to bring lasting peace and security to Southeast Europe.
The present situation in Kosovo is more an armed truce than a genuine peace. As long as NATO troops remain, war between Serbs and Albanians can be prevented. But the underlying grievances that sparked the conflict have not been resolved. Similar conditions prevail in Bosnia, where approximately 35,000 troops prevent renewed carnage, but where Serbs, Croats, and Bosnian Muslims remain bitterly divided. Martin Luther King Jr. said that peace is more than the absence of war; it is the presence of justice. By that standard the Balkans are a long way from peace.
It is no accident that the Balkan wars have raged in the poorest parts of Europe. Conflicts over resources, jobs, and economic opportunity have been at the heart of the region's troubles. Building a just peace will require addressing these issues and lifting the region out of relative poverty. The promise of economic assistance and integration into the European community can be offered as incentives to encourage human rights and multi-ethnic cooperation. The goal of U.S. and European strategy should be to create prosperous, democratic, open societies throughout the Balkans—to build communities where people trade rather than invade, where commerce, communication, and interdependence gradually break down the animosities that have so often fueled armed conflict in the region.
Read the Full Article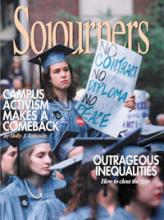 ​You've reached the end of our free magazine preview. For full digital access to Sojourners articles for as little as $3.95, please subscribe now. Your subscription allows us to pay authors fairly for their terrific work!
Already a subscriber?
Login