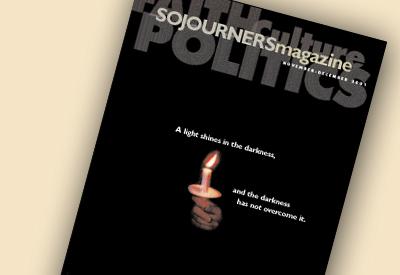 The terrorists have not just attacked thousands of innocent civilians. They have launched an attack against our ideals, against our value for human life, against our sense of national identity. Evil terror wants us to be controlled by fear, and resort to indiscriminate revenge. The terrorists believe that America is corrupted beyond redemption. They want to provoke America into ugly, indiscriminate responses that will turn more hopeless people in the world against us and produce more martyrs for their cause.
The arsenals of this enemy are fanatic beliefs and religious passions that translate into sacrificed lives. Cruise missiles don't defeat such zealotry.
How do we go to war against hate? Our response will be a test of who we are. In this "campaign against terrorism," our strongest weapons are our ideals and values-our belief in the dignity and worth of every human life, our conviction that nations are strong when they respect the rights of all, and our determination to pursue what is right in ways that are just.
These defining characteristics of national identity are anathema to the terrorists; this is precisely what their terrorism seeks to destroy. That is why, in a real sense, our struggle is at heart a spiritual one. The evil we have seen does not yield easily to search-and-destroy missions. It is overcome in the end through a resolute commitment to a moral political vision. Even deeper, the religious community always declares that such evil is finally defeated through faith in the power of redeeming love.
When someone hates you for any number of alleged reasons, you face a choice. Either you can hate them in return, and actively seek their demise. Or, you can defend yourself against unjust attack, but live in ways that demonstrate to all that you are not, at heart, the person whom the other accuses you of being. The nation faces choices of how it will respond to evil that now has struck in such devastating ways right at home. Politicians have given the president a military blank check. The church, however, can never write a moral blank check.
Rather, the church must steadfastly insist on the distinction between justice and revenge. Paul reminds us in Romans 12 that vengeance belongs to God. Our task is to resist being overcome by evil, and instead overcome evil with good. That counsel needs to be heard and heeded by those now calling the country to war.
Economic, diplomatic, and military strategies will be undertaken to bring terrorists to justice. But the church must plead with the nation to never forget who we say we are. For our gravest temptation at this hour is to be grasped by the same evil that controlled the terrorists.
Wesley Granberg-Michaelson, a Sojourners contributing editor, is general secretary of the Reformed Church in America.