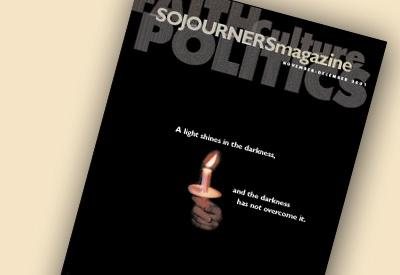 For 20 years I have worked as a mediator in violent situations from Northern Ireland to Somalia, from Colombia to Nicaragua, from the Basque country and Tajikistan to the Philippines where cycles of revenge seem hell-bent on perpetuating themselves and those involved find ways of justifying their part in the cycle. Some lessons emerge from these settings for the challenges of terror.
First, recognize that cycles of violent anger are built on perceived threat to survival and direct experiences of exclusion over time. Stopping the cycle requires one guidepost: Avoid doing what they expect. They expect us to lash out. They need disenfranchised people to perpetrate the myth that they are fighting a mad system. We need to destroy the myth, not their people.
Second, understand that their organization has as a central purpose: Regenerate thyself. They operate through autonomous cells, strict secrecy, and a refusal to engage the enemy's strength. Many political leaders believe they can end this violence by getting rid of the perpetrator. This focus on the person rather than the system gives life to terror. We are faced with something more like a virus: It enters unperceived, flows with the body, and creates harm from within. Our strategic response must remove the sources that attract and sustain recruitment. You do not shoot at this kind of enemy. Massive military response creates the environment that reproduces the virus. You respond by strengthening the capacity of the body to prevent the virus and strengthen immunity.
Third, popular hype claims these are irrational religious lunatics, but from their view their behavior is not fanaticism. Their worldview is built on years of superpower struggle that used them, fear of encroaching Western values considered immoral by their religious interpretation, and home governments that excluded them. From their view they fully expect the "evil" they are fighting to punish innocent people to get at them. And ironically in the punishment they will find seeds that increase their numbers and justify revenge. To break this cycle, we must give symbolic and material attention to the quality of our relationship with the population they depend on.
Their power lies in finding simple ways to use the system to undo it. I believe our greatest task is to find equally creative and simple tools on the other side. Several suggestions: First, make every effort through law enforcement to bring the criminals involved in this heinous act to justice, but let us not give them the gifts of center stage and war.
Second, energetically pursue peace between Israelis and Palestinians. Do it now. Build a coalition for peace with the same energy we invested in the coalition for war. The United States can work to balance the process and address historic fears. Let us take away a most coveted weapon of terror: the soils of generational conflict used to perpetrate hatred and recruitment.
Third, invest in a broad social agenda in the countries surrounding Afghanistan, rather than destroying the Taliban in a search for Osama bin Laden. The greatest pressure we can put on bin Laden is to remove the source of his justifications and his alliances. Changing terror's ability to reproduce itself lies in changing the perception of who we are in the eyes of the population it depends on. Let's do the unexpected: Create strategic alliances never before thought possible for constructive outcomes.
Fourth, with Arab countries address the root causes of internal discontent and promote ecumenical engagement to create a web of ethics for the new millennium. These ethics must create a capacity for each religious tradition to internally engage the sources of its own violence and mobilize resources for peace. The challenge: assure the respect for life and build political structures responsive to fundamental human needs. Such a web can only be created through sustained dialogue and relationships at all levels of society. Let's show that life-giving ethics created through genuine dialogue and strategic partnership is capable of absorbing and preventing the virus of violence.
We need to think differently about the challenges of terror. We must not provide the movements we deplore with gratuitous fuel for self-regeneration, fulfilling their martyr-based prophecies. They changed the game, entered our lives, and turned our own tools to our demise. We need to change the game again. Let us give birth to the unexpected.
John Paul Lederach is professor of international peacebuilding at the Joan B. Kroc Institute for International Peace Studies at Notre Dame and distinguished scholar at Eastern Mennonite University.