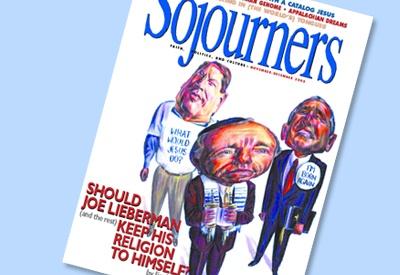 Roaming the High Sierra of California more than 20 years ago, my friends and I thought there were few people quite like us. We were wilderness guides and radical ecological Christians (or so we thought). "Minimum impact" was our motto. We aimed to "live lightly on the land" and John Muir, rather than the apostle Paul, was the writer of our sacred texts.
Conjuring up images of well-fed churchgoers with a Bible in one hand and a chain saw in the other, mainstream evangelical Christianity, from which we all came, was no friend to the wilderness we cared about passionately. Sadly, I read Lynn White Jr.'s now famous 1967 article in Science magazine ("The Historical Roots of Our Ecological Crisis") accusing Christianity of promoting a theology of domination over nature, thus contributing to ecological crises, and I agreed. "Yup, that's my people."
Yet something happened on the way to ecological apocalypse. Although the church does not have a strong history of either environmental theology or practice, current theological and environmental statements and church leadership look nothing like the landscape I viewed as a young wilderness guide a mere 20 years ago. Even theologically conservative churches now promote environmental theologies and programs.
In part this change is an inevitable response to what Brazilian liberation theologian Leonardo Boff calls the "cry of the earth, cry of the poor." Human problems and crises can not be separated from environmental destruction. Throughout the Third World, hundreds of thousands die due to polluted water, contaminated land, polluted air, deforestation, and poor sanitation facilities. Increasingly, battles among groups of peoples and nations will be due to environmental scarcity, as burgeoning populations seek fuel, food, water, and land. Precious resources will have been destroyed or damaged as we log, mine, kill, dump toxins, and otherwise trash our own home.
CAN YOU BE a Christian and not be an environmentalist? Almost every major Christian denomination now has an environmental statement. Although a range of theologies are articulated, these statements demonstrate that "Christian theology has rediscovered that all of the earth community is valuable to God," as Rosemary Radford Ruether and Dieter T. Hessel write in Christianity and Ecology. In developing environmental theologies, key concepts appear that reflect traditional themes within Christianity applied to environmental issues. These documents use language familiar to Christians. They speak of creation, sin, redemption, incarnation, stewardship, covenant, and justice. But in using these familiar theological terms, they are speaking of non-human as well as human nature.
Creation. The creation of the earth by God is the starting place for most denominational statements. In 1990, the General Assembly of the Presbyterian Church (USA) adopted the document "Restoring Creation for Ecology and Justice." It begins by describing God's creation as "groaning in travail." Its theology is grounded in "keeping and healing," in the claim that the earth is God's creation. As God's creation the earth is both good and full of grace. The moral obligation humans face is to heal this good and graced world that is now "in agony."
Similar theological underpinnings are found in the 1989 American Baptist statement "Creation and the Covenant of Caring," which states "the fact that creation was deemed 'good' means that nature has value in and of itself, apart from humans." The American Baptist statement contrasts images of the garden found in Genesis with Isaiah's lament, "the earth lies polluted under its inhabitants." The Baptists write, "These two passages of scripture present a stark contrast. We have poisoned the earth that God has given us. It is no longer the beautiful garden."
Sin, Redemption, Incarnation. In 1996, the Evangelical Environmental Network, an evangelical ministry started by World Vision and Evangelicals for Social Action, released the "Evangelical Declaration on the Care of Creation." The declaration was quickly signed by hundreds of evangelical leaders and provides an example of an ecological statement that is fully evangelical in its theology. Sin is directly linked to having "polluted, distorted, or destroyed so much of the Creator's work." Human sin reflects a perverted stewardship of the created world. Christians are called to "confess and repent of attitudes that devalue creation." Redemption is marked not only by renewed fellowship with God but also "by renewed harmony and justice between people and the rest of the created world."
A similar perspective is found in the Evangelical Lutheran Church of America's 1993 document, "Caring for Creation: Vision, Hope and Justice." The ELCA calls sin a human disruption of creation, caused especially by excessive consumption by those in rich countries and by human population growth worldwide.
Stewardship and Covenant. The most common theological theme found in these eco-theology statements is stewardship. The fact that "the earth is the Lord's" means that stewardship is a "basic relation with God" according to the American Baptist's "Policy Statement on Ecology." The Episcopal Church calls its ecology section the Environmental Stewardship Program. The Evangelical Environmental Network says its mission is to encourage Christians to "respond faithfully to our biblical mandate for caring stewardship of God's creation." The Presbyterian document "Keeping and Healing the Creation" claims that the human covenant with God includes "keeping" the creation. When people break the covenant, "God includes the natural order in promises of healing and renewal."
If one uses official church documents as the gauge, the theologies of dominion and domination that characterized Christianity as described by Lynn White Jr. have been replaced by theologies of stewardship.
Justice. Liberation theologies are among the greatest influences on environmental statements. Many documents place environmental concerns in a context of social justice. The 1991 document "Liberating Life: A Report to the World Council of Churches" takes the theme of liberation as its central organizing principle. The Presbyterian Eco-Justice Task Force emphasizes environmental racism. The ELCA document contains a lengthy section on justice. Pope John Paul II linked environmental destruction with structural injustice in his 1990 World Day of Peace address, "The Ecological Crisis: A Common Responsibility," claiming that peace is threatened by the degradation of nature. According to the pope, respect for life and dignity of the human person demands environmental protection. Increasingly, Christians are realizing that concern for the world's poor and vulnerable is inseparable from care for the earth upon which they depend.
All these themes are familiar to Christian ears. What may be less familiar is the way in which traditional Christian concepts are currently applied to environmental concerns.
WHEN I TOLD an environmental activist friend (who is also a Christian) that I was writing this article, his response was "now if only all those Christian eco-groups would do something." Does being a contemporary Christian mean that one is more likely to be an environmental activist? Well, yes and no.
The good news in faith-based environmentalism is that Christian attitudes have changed significantly. However, this new environmental consciousness comes at a time when environmental destruction occurs at an unprecedented rate. First World consumption, as well as population growth, continues to be the biggest villain in this mad rush to plunder the earth's resources. And no matter how green our attitudes or how theologically sound our environmental statements, the fact remains that we are living more heavily on the earth than ever before.
In a culture based on excessive consumption, even those who attempt to live lives of simplicity will cause at least three times the environmental impact of a rural villager in India or Africa. There is no data suggesting that Christians consume less, have fewer kids, or are more likely to be environmental activists than are non-Christians.
In the United States the most common environmental activity of mainstream Christian denominations consists of conferences, workshops, consciousness-raising activities, education in churches, innovation in worship, and letter-writing campaigns. Most of these efforts are aimed at changes in attitude.
More concrete actions occur as well. The World Council of Churches has a major program on climate change. One result of this campaign was a petition with 70 million signatures supporting emission-reduction strategies presented at the 1997 global climate convention in Kyoto. The National Council of Churches Eco-Justice Working Group emphasizes climate change, energy stewardship programs for churches, and environmental justice. The Presbyterians are on the forefront of education and activism concerning environmental racism and eco-justice.
The United States Catholic Conference focuses on cleaning up "brownfields"—blighted, toxic urban areas, generally in poor communities—children's environmental health, energy efficiency, and the connection between debt and environmental issues. U.S. and Canadian Catholic bishops are collaborating to protect the Pacific Northwest's Columbia River watershed. The Columbia River Pastoral Letter Project promotes protection of salmon, the fostering of owner-operated family and cooperative farms, energy conservation and use of alternative energy sources, and adequate living conditions for the poor. This collaboration is now a model for addressing similar situations of structural injustice that couple environmental damage with human harm.
My favorite Christian eco-groups, however, are the small nondenominational ones. Although few in number, these groups are leaner and less hampered by unwieldy church bureaucracies. The Religious Campaign for Forest Conservation has as its goal the preservation and restoration of public forests. Floresta helps subsistence farmers in Third World countries to plant fast-growing trees, reforest areas, and replenish eroded soil. Floresta's Agroforest Revolving Loan Fund also provides credit to small-scale farmers for sustainable projects. Target Earth works in 15 countries promoting projects to buy endangered lands, protect jaguars, and aid reforestation. Wild Hope-Sierra Treks and Littlefoot Expeditions team up with public lands advocacy groups to protect wilderness areas and provide a Christian theology wilderness experience. The Philadelphia-based Society of the Green Cross has more than 20 chapters taking on specific projects—including the development of ethnobotanical centers. These groups exemplify Christian-based eco-praxis. They address pressing environmental concerns concretely and are nourished by theologically grounded earth ethics.
Internationally, church-sponsored environmental activism is more common than in the United States. If you are fighting to protect your land and sustainable way of life from commercial fishermen and loggers in Brazil's Amazon basin, it is likely you will receive concrete support from the Commisao Pastoral da Terra, started by Brazilian Catholic bishops in 1975. If you are involved in battles over appropriate technologies and deforestation in El Salvador, it is likely that your ecological resistance movement has Catholic roots. In South Africa it is primarily groups like Christian Aid, the Highlands Church Action Group, and the Christian Council of Lesotho that are monitoring the effects of World Bank dam projects on local communities.
While Christian attitudes toward the environment are indeed changing, latitude—north or south—and economics still dictate the urgency of environmental action. Justice for the land's well being can't be separated from people.
LOIS ANN LORENTZEN is professor of social ethics at the University of San Francisco. She is the author and editor of books and articles on the environment, gender, and violence, and a former wilderness guide.