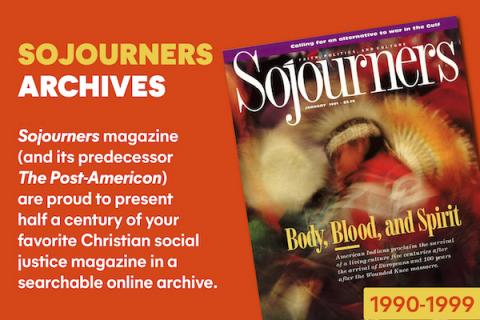 THERE WERE TIMES in the past 25 years when we weren't sure we'd make it this far-a quarter century is a long time in the precarious world of small nonprofit magazines. But through faith, hope, and the support of many friends we are with this issue launching our second 25 years.
To help commemorate the milestone, we've put together this sampler that addresses issues, movements, and principles that have been central to our work over the years-many of which still are. It's certainly not intended to be a comprehensive compilation of the "best" or most significant writing we've published, and some things-for example, reviews-are absent.
While the principles haven't changed, some things have evolved with the times (as we hope all of us have). For instance, in the 1970s the (mostly male) writers used male imagery and terms for God and for people. While some of the language and specifics of the issues seem dated (as may some of these headlines from the original articles), we feel these excerpts still have something to say to us as we begin the next 25 years. -The Editors
What is the People's Christian Coalition? WE ARE PEOPLE who just a year ago began meeting together, attracted by our mutual rejection of the permeating American ethos and our mutual belief that the alternative lays somewhere in radical obedience to Jesus Christ....
We dedicate ourselves to no ideology, government, or system, but to active obedience to our Lord and His Kingdom, and to sacrificial service to the people for whom He died.
-THE EDITORS, Fall 1971, Vol. 1, No. 1
The "People's Christian Coalition" was the formal name chosen by students who came together to produce the first issue of The Post-American, predecessor of Sojourners.
Jesus Was No Chauvinist!
Jesus was a feminist, that is, a person who promotes the equality of women with men, who treats women primarily as human persons and willingly contravenes social customs in so acting. The Gospels give no evidence of Jesus ever treating women as inferior to men. It is clear from the Gospels that Jesus vigorously promoted the dignity and equality of women in the midst of a very male-dominated society: Jesus was a feminist, and a very radical one. Can his followers attempt to be anything less?
-AUTHOR UNNAMED, Summer 1972
Lawlessness American Style
ONE OF THE SOURCES of black frustration in America has been our inability to make white America hear us. Not just hear, but really perceive the plight of an oppressed minority struggling to affirm the merest human standards. Blacks have always known that suffering is the common lot of all men born of women. But white men do not suffer because they are white, and therein lies a fundamental difference. To be second-class in America, a citizen needs visibility, and blacks, Indians, and others have qualified in a way that Irishmen and Greeks will never comprehend.
-BILL PANNELL, Fall 1972
BILL PANNELL in 1972 was a speaker and writer. He is now the Dean of Chapel at Fuller Theological Seminary.
The Relevance of Babylon
IT IS A PITY THAT Americans have been so steadfastly inattentive to the Bible, for all their contrary pretentiousness in the country's public rituals and for all their religiosity concerning the popular fictions as to the nation's destiny.... Instead, Americans, for the most part, have dismissed the Bible as apolitical, a private witness shrouded in holy neutrality so far as politics is concerned, having nothing beyond vague exhortation to do with the nation as such, relegated to the peripheries of social conflict. Thereby, we have actually suppressed the Bible, since it is intrinsically political.
-WILLIAM STRINGFELLOW, January-February 1973
WILLIAM STRINGFELLOW was an attorney, theologian, and social critic. He died in 1985.
Lessons From Vietnam
WHAT VIETNAM has taught the Christian is that allegiance to country often involves disobedience to God. Increasingly, the choice must be either-or, not both-and. Vietnam has highlighted the fact that the basic generating principles of citizenship in the secular society and citizenship in the Kingdom of God are mutually exclusive. There are preliminary ways in which we must serve and honor our country, rendering unto Caesar the limited things we owe to Caesar for the preservation of civil authority. We are not anarchists. But our allegiance to country is temporal and conditional. There can be no Christian support for what we have done in Vietnam.
-BILL LANE, March-April 1973
BILL LANE in 1973 was a free-lance writer and a contributing editor to The Post-American. Now Lane-Doulos, he is on the staff of All Saints Church in Pasadena, California.
The Justice of Our Cause
Anyone could be non-violent in a monastery, after all, but that is easy and that was not the way of Christ. What's difficult is to be nonviolent in the cause, in the battle for social justice: knowing that violence can be done to ourselves, knowing-and this is even more difficult-what violence can be done to our family and brothers and our cause.
-CESAR CHVEZ, March-April 1973
Cesar Chvez was founder and leader of the United Farm Workers. He died in 1993.
The Bible and the Poor
NOT ONLY is the Bible extensive in its teaching on wealth and poverty, but it is uncomfortably clear and plain. There is not the ambiguity and complexity that one finds in some other subjects....The Bible is clearly and emphatically on the side of the poor.
-BOB SABATH February-March 1974
BOB SABATH in 1974 was a contributing editor to The Post-American. He now is a computer consultant and webmaster of Sojourners Online.
The Second-Rate Rib
THE MODERN WOMEN'S movement accepted the basic ideas of equality that, because of Christianity, were self-evident in Western culture, but without the Biblical basis or Biblical imperative of discipleship. So the movement is often strong on critique with no positive direction or model to look to beyond the critique.
-SHARON GALLAGHER, August-September 1974
SHARON GALLAGHER in 1974 was editor of Right On magazine in Berkeley, California. She is now editor of Radix magazine in Berkeley.
The Plan to Save America
Events and activities in the last twenty months point to a major initiative by the evangelical far right in this country....Other evangelical leaders have become worried, expressing deep fears and concerns about the hidden political agenda that seems to lie beneath the religious sounding talk of "turning America back to God," of evangelistic efforts to "save the nation," and of electing "real Christians" to political office....What clearly emerges is a national effort, with attempts being made to decrease its visibility. The plan is to begin at the ground level and organize a massive grass-roots, evangelical, conservative political movement.
-JIM WALLIS and WES MICHAELSON April 1976
WES MICHAELSON in 1977 was associate editor of Sojourners. Now Granberg-Michaelson, he is general secretary of the Reformed Church in America.
Curiouser and Curiouser Bomb Logic
IN HIS INAUGURAL address, Jimmy Carter said his "ultimate goal [was] the elimination of all nuclear weapons from this earth." It is difficult to think of a more concrete way to begin than by simply halting the daily production of additional nuclear bombs.
-WES MICHAELSON February 1977
Solitude
The inner fabric of Christian community.
In solitude we grow closer to one another. When we pray alone, meditate, study, read, write, or just spend quiet time away from the places where we interact with each other directly, we are in fact participating fully in the growth of community. It is a fallacy to think that we come closer to each other only when we talk together, play together, or work together....Only when all these activities are experienced and lived as an expression of a deeper unity can they remain free and open. Solitude is indeed the basis, the ground of the community. There we grow closer to each other because there we are able to come in touch with the source of our unity.
-HENRI NOUWEN, March 1979
HENRI NOUWEN in 1979 taught pastoral theology at Yale Divinity School. He died in September 1996.
Idols Closer to Home
Radical Christians, like all creatures, tend to boast most of all of themselves. To trust in our lifestyle, our commitment to the poor, our actions, our nonviolence, or our prophetic identity is, in the end, to trust in ourselves. It is to trust in our work, our principles, our causes, and our self-images....
Radical Christians must seek not a successful strategy but a deeper faith. Only then will we have the assurance of salvation, not because of what we have accomplished, but because we have allowed God's grace and mercy to flow through our lives.
-JIM WALLIS, May 1979
A Change of Heart
THE PRESENT ARMS race is a terrifying thing, and it is almost impossible to overestimate its potential for disaster....Is a nuclear holocaust inevitable if the arms race is not stopped? Frankly, the answer is almost certainly yes.
-BILLY GRAHAM from an interview by Jim Wallis and Wes Michaelson, August 1979
What Does it Mean to be Pro-Life?
I have not always been pro-life. In the late '60s and the '70s I was for abortion. It was the popular opinion of everyone I knew. I accepted the doctrinal orthodoxy of the women's movement which states that the right to abortion is an absolute necessity for liberation and equality with men....I came to see the connections between nonviolence and a "pro-life" position on abortion. It was hard to admit that I had been inconsistent. I was a nonviolent person who winced even killing roaches, and at the same time I was adamantly in favor of abortion. I had not allowed my feelings to be involved where abortion was concerned.
-CATHY STENTZEL November 1980
CATHY STENTZEL in 1980 was assistant to the editor at Sojourners. She is now a student at United Theological Seminary in Dayton, Ohio.
Our Chance to Stop
IF THE HUMAN RACE is ever going to eliminate the curse of nuclear weapons altogether and have a world in which the threat of a holocaust no longer hangs over every moment, we will have to begin by stopping the production of more nuclear weapons. Only a freeze on new and additional nuclear weapons can make disarmament possible....Even if the disarmament cause remains an unpopular one, even if it meets with repression, the need for Christians to act on behalf of peace in the politics of their time will remain the same.
That is probably the greatest contribution the churches could bring to a movement to stop the arms race. We should be in it for the long haul because we have a hope for this world that is beyond optimism.
-MERNIE KING and DANNY COLLUM March 1981
MERNIE KING in 1981 worked with Sojourners Peace Ministry, and DANNY COLLUM was editorial assistant of Sojourners. King is now an attorney in New Orleans, and Collum (now Duncan Collum) teaches creative writing in Baltimore.
Rage and Reconciliation
AS LONG AS WE TALK about reconciliation without ac knowledging our very real and legitimate rage, we are trying to have a manipulated reconciliation which is a great deal like Bonhoeffer's cheap grace. Most of the time a black person would not consider sharing with a white person what she is really thinking because no trust exists between them, and there is so much rage. Only the reality of trust in a relationship and its ability to bear up under the truth will allow rage to be shared.
-CATHERINE MEEKS, June 1981
CATHERINE MEEKS in 1981 was dean of students at Mercer College (now University) in Macon, Georgia, where she is now director of the African-American studies program.
A Shield of Love
THE WITNESS FOR PEACE IN NICARAGUA. The United States has launched an undeclared war against Nicaragua....Christians and others in the United States have watched the escalation, have prayed and wept at the suffering created by U.S. policy against Nicaragua....The hope of the Witness for Peace is that a different kind of U.S. presence in Nicaragua will inhibit military violence, cause the U.S. government to re-examine and change its policy toward Nicaragua, and establish a relationship of trust and friendship between the people of Nicaragua and the people of the United States.
-JOYCE HOLLYDAY, November 1983
JOYCE HOLLYDAY in 1983 was associate editor of Sojourners. She is now in the master's of divinity program at Candler School of Theology at Emory University in Atlanta.
At the Dawn of the New Creation
A theology of the environment.
THE BIBLE SPEAKS of no radical separation between the material and the spiritual. The cleavage assumed to exist between humanity and nature is a product of modern Enlightenment thought rather than the Bible. The Bible does not even have a word for what we mean by "the world of nature." The biblical writers did not conceive of nature as an autonomous realm without relationship to humanity or to God. There is no word in Hebrew for "nature." The biblical view...is that "nature comes from God, cannot be apart from God, and is capable of bearing the 'glory' of God."
-WES GRANBERG-MICHAELSON November 1981
By What Authority?
The Bible and civil disobedience.
CIVIL DISOBEDIENCE as a political tactic is of relatively recent genesis, but resistance to human sovereigns is as old as civilization itself. In the ancient world this resistance usually took the forms of refusal to abide by the decrees of a king or a prophetic challenge to the legitimacy of a ruler's authority....It is clear enough that civil disobedience in many forms is biblically justified and at times even imperative.
-CHED MYERS, May 1983
CHED MYERS in 1983 was a student of New Testament at Graduate Theological Union in Berkeley, California. He is now a free-lance writer and speaker.
In the Company of the Faithful
YOU REMEMBER the black young man who on that last night said, "I've been to the mountain top. I've seen the promised land. I may not get there myself, but you will get there." That's what it means to live a life of faith, not trying to gobble everything that you can get your hands on, not saying that if I can't see it, if I can't have it myself, then I don't believe in it. It means knowing that there is a city set out there, within here, for God's people, for all people, a city that is better than anything we have known. Living in faith means knowing that this is not someplace in the sky, but that it is in the hearts and lives of the women and men who will work for it, who will seek to create it.
-VINCENT HARDING, May 1985
VINCENT HARDING in 1985 was (and remains today) professor of religion and social transformation at the Iliff School of Theology in Denver.
Keeper of the Word
A eulogy for William Stringfellow.
WE THINK TODAY of the word of God, the word of Stringfellow. I scarcely can distinguish the two, as we celebrate a rare non-betrayal, the man who kept his word. It is to his supreme honor I mean this; that in his life, the word of God and his own word merged and were one. He kept the word of God so close, so jealously, with such fervor and attention and acute irony and sense of judgment and anger and reverence and fear and so much more-he kept that word in such wise that the word of God and its keeping became his own word and its keeping.
For thousands of us, he became the honored keeper and guardian of the word of God; that is to say, a Christian who could be trusted to keep his word, which was God's word made his own. To keep that word close, to speak it afresh, to make it new.
-DANIEL BERRIGAN, May 1985
DANIEL BERRIGAN in 1985 was a poet, priest, and peace activist. He still is.
In the Name of Relief
A look at private U.S. aid in contra territory.
The Christian Broadcasting Network Inc. and other private U.S. organizations and corporations are raising millions of dollars in goods, medicine, clothing, vehicles, and other humanitarian aid for Nicaraguan refugees. And millions of well-meaning U.S. Christians are donating money that is serving, directly or indirectly, to sustain Nicaraguan contra terrorism that has killed or injured more than 8,000 Nicaraguans since 1982, more than half of them civilians.
-Vicki Kemper, October 1985
VICKI KEMPER in 1985 was news editor of Sojourners. She is now editor of Common Cause magazine in Washington, D.C.
Apologist of Power
The long shadow of Reinhold Niebuhr's Christian realism.
MORE THAN a decade ago, when liberation theology hit the U.S. scene with full force, it ran smack into-you guessed it-Niebuhr's "Christian realism," which had some advice for the Latin upstarts: "Read Reinhold Niebuhr." There ensued in the journals for some weeks a theological brouhaha wherein supporters and detractors alike took a Niebuhrian measure of the new theology. Reinhold Niebuhr effectively remains, 15 years after his death, political gatekeeper to North American Christendom.
Now squarely to the point: Any movement that advocates nonviolent resistance, nuclear abolitionism, and marginality with the poor, that puts faithfulness before effectiveness, that takes seriously the Sermon on the Mount, or that believes there is a politics of the cross-that movement will bump heads over and over (most likely without knowing it) with Reinhold Niebuhr's legacy.
-BILL KELLERMANN, March 1987
BILL KELLERMANN in 1987 was a United Methodist pastor in Detroit. Now Wylie-Kellermann, he currently teaches at the Whitaker School of Theology in Detroit.
America's Original Sin
The legacy of White Racism.
All white people in the United States have benefited from the structure of racism, whether or not they have ever committed a racist act, uttered a racist word, or had a racist thought (as unlikely as that is). Just as surely as blacks suffer in a white society because they are black, whites benefit because they are white. And if whites have profited from a racist structure, they must try to change it.
-JIM WALLIS, November 1987
On A Firm Foundation
Building on the history and achievements of feminism.
WHEN WE CHOOSE a lifestyle of alienation and anger, we will simply become more alienated and angry beyond our choosing. It is also true that anger, when recognized and channeled, can be a positive and powerful force for change. Liberation must always contain in its promises the possibility of healing and personal wholeness. Therefore, it must always hold open the possibility of reconciliation.
Christian feminists have a powerful experience of reconciliation to offer to the broader women's movement. We know that we ourselves have fallen short of God's intention and have been given the gift of reconciliation. Knowing our own dependence on grace can make us channels for grace and healing in the church and in the world, which includes speaking the truth with power.
-GINNY EARNEST, October 1988
GINNY EARNEST in 1988 was coordinator of Sojourners Internship Program. She died in 1993.
'You Have Struck the Rock'
Women struggle for a free South Africa.
BLACK SOUTH AFRICANS are exiles and sojourners in the land of their birth, always on the move, always under threat of being pushed to yet another distant, barren corner of earth. And black South African women are exiles among the exiles. Raised in a culture that forces their dependence on men, oppressed by a government that wrenches that dependence from them, they are often compelled to survive by their own strength and resources....
The image of Exodus is indeed their image. They claim and celebrate the growing freedom they are experiencing together as women, reveling in God's faithfulness, struggling in hope. They have wandered 40 years in the brutal wilderness of apartheid. And though they may not get there with them, they are determined to see that their children reach the promised land.
-JOYCE HOLLYDAY, December 1988
The Struggle for Nicaragua's Soul
PERHAPS THE MOST tragic case is Nicaragua, where religion has become another source of division in an already polarized nation. Instead of providing solace during a time of war and great suffering, the Catholic-and Protestant-churches have wasted their energies in persecuting members who do not conform to the leadership's ideological convictions, particularly as regards the contra war. As has frequently occurred in the past, when churches have allowed themselves to become political tools, politics has distorted the Christian message.
-PENNY LERNOUX, May 1989
PENNY LERNOUX in 1989 was a journalist who had lived in Latin America for the previous 26 years. She died later that year.
War is Not the Answer
OUR NATION must not submit to the inevitability of war. By acting now on a very broad scale, we as people of faith will mobilize on behalf of a peaceful alternative [to war against Iraq]. Citizen action and the strength of public opinion could literally make possible a solution to this crisis without war.
We call upon the churches and upon the nation to fast and pray for peace, to pursue every means available of public dialogue and popular expression to find a way out of certain catastrophe, to resist the war option and help point the way to peace with justice.
-FROM A "MESSAGE OF PEACE" WRITTEN BY 18 U.S. CHURCH LEADERS AFTER A PEACE PILGRIMAGE TO THE MIDDLE EAST February-March 1991
'We Are Still Here'
The meaning of 1992 for Native people.
Columbus was a perpetrator of genocide, responsible for setting in motion the most horrendous holocaust to have occurred in the history of the world. Columbus was a slave trader, a thief, a pirate, and most certainly not a hero. To celebrate Columbus is to congratulate the process and history of the invasion....
Indigenous people will continue to struggle. It is this legacy of resistance that, perhaps more than any other single activity, denotes the essence of 1992. After all the hoopla and celebration by the colonial governments is over, the Native voice will prevail. It is like a constant rumble of distant thunder, and it says through the wind, "We are alive. We are still here."
-Winona LaDuke, October 1991
WINONA LaDUKE, a member of the Anishinabe Nation, in 1991 was president of the Indigenous Women's Network. This fall she ran for vice president of the United States on the Green Party ticket.
A Time to Heal, A Time to Build
Special Report on the Gang Summit.
THE SUMMIT signified reunification of the black poor and oppressed communities, and it came from the bottom up instead of top down. If we are to unite our communities and stop the violence, it has to take place from the bottom up. Certainly the people at the summit represent the very fabric of the grassroots community....
The brothers had to do one thing before we even talked to them about peace. They first had to apologize to the African-American community-specifically the sisters and the babies-for all the pain and suffering they have caused us. We demanded they publicly apologize to us. Once they did that, the non-believers changed their perspective. The same kind of thing needs to be done on a national level.
Brothers and sisters have to understand this truce isn't about who has the biggest mob. It's about stopping the killing in our community. It's as simple as that.
-MARION STAMPS from an interview with Jim Wallis, August 1993
MARION STAMPS in 1993 was chair of the Tranquility-Marksman Community Organization in Cabrini-Green housing project in Chicago. She died in 1996.
Defending Gay Rights
REGARDLESS of what position churches have taken on other questions concerning gays and lesbians, intolerance and bigotry involve fundamental issues of justice and require forceful and definitive response. Churches have a special responsibility to play an active role in the battle against anti-gay discrimination, both because of the primary role the Religious Right plays and because of the moral, ethical, and even theological nature of the human rights struggle that is at stake.
-JIM RICE, February-March 1993
Why I Stay in the Church
THE REAL QUESTION is how to live by faith in the midst of error and sin-not the errors and sins of others with whom we do not identify ourselves, but the errors and sins to which we ourselves are prone. How do we hold on to a sense of God's grace at work in our lives, even in the midst of evidence not only of failings of individual Christians, but of institutionalized crime and deceit in high places?
This is possible only if we take much more profoundly and seriously that faith is trust in God rather than in ourselves....The gracious and redeeming presence of God is there at the point when we give up trying to possess it, institutionalize it, and guarantee it as something that we can deliver by the means that belong to us. This is another way of saying that it is, and remains, grace.
-ROSEMARY RADFORD RUETHER, July 1994
ROSEMARY RADFORD RUETHER in 1994 was (and remains) Georgia Harkness professor of applied theology at Garrett-Evangelical Seminary in Evanston, Illinois.
Gen X and the Future of the Church
MANY OF US often do feel dissonance and tension between generations. We hear the speeches, sign the petitions, read the materials, and work into the progressive Christian and secular institutions of the day. Questions arise-How do we fit in? Do we incorporate, fusing our energy and vision? Are we allowed? Are we trusted? Or should we do what our good founders did when they were in their 20s and start our own organizations? Can we afford to sacrifice wisdom, years of experience, and mentoring relationships for the opportunity to "do it our way"?
-JENNIFER JOHNSON, JILL CARROLL LAFFERTY, JEFF SHRIVER, KARI JO VERHULST, LAURA ZYLSTRA-GARTH November 1994 The authors in 1994 were all twentysomethings working at Sojourners.
La Cultura Cura
Latinos' culture of healing draws on Christian and indigenous traditions.
MANY LATINOS in the United States who are conscious of their indigenous roots are joining American Indians in sustaining their faith through prayers in the sweat lodge, purification with sage, and sacred pipe and sun dance ceremonies. Called la cultura cura, or healing culture, it includes ceremonies, rituals, and arts that can be used to help many Latinos overcome the multigenerational pain that surrounds them and leads to the death and destruction present in the Latino community.
-AARON GALLEGOS, January-February 1996
What's Next for Call to Renewal?
Why do we continue to force a false choice between personal responsibility or economic justice as the most critical factor in alleviating poverty, as the conservatives and liberals continue to do? Why are we forced to favor big government programs or the withdrawal of government altogether in the welfare debate? Both bad habits and the lack of economic opportunity create poverty, often in tandem.
-JIM WALLIS, March-April 1996
In the Image of God
IN THIS TIME and place, the hunger for clarity deifies the obvious and demands artistic expression that is too diluted to provoke. If we don't get it, it is spiritually suspect, and we'd rather limit God's power to comprehensible forms than risk sliding down that slippery slope of relativism. This is clarity at the expense of grace....
The irony, (dare I say) the blasphemy, of limiting God to literal truths and historically documented facts in order to steer clear of that slippery slope of relativism is deafening. I do not see how the Master of the Universe becoming incarnate-the ground of all being confining itself to one aspect of being-is obvious; how "Jesus Loves Me, This I Know" is anything but mystery. I love doctrine, theology, and exegesis, but if I believe anything, it is that even if we have it all wrong-even if it turns out that both pre-destination and free will are wrong-God will still be God, and his unwavering love for his creation still unwavering.
KARI JO VERHULST, May-June 1996