Many thanks to Asra Q. Nomani for her excellent article "'Get Them When They're Young!'" in the August 2014 issue. As a pastor's wife, I taught young children of various ages in the Methodist churches where my husband served. As fulfilling as that was, I always cringed whenever I sat before each new class, for I sensed that those dear children would believe anything I told them.
Thanks for reminding us that "bad religion that bullies children must be countered with good religion and good conscience." Indeed, we must "coexist!"

Dottie Harrison
Frederick, Maryland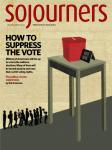 This appears in the November 2014 issue of Sojourners
Got something to say about what you're reading? We value your feedback!