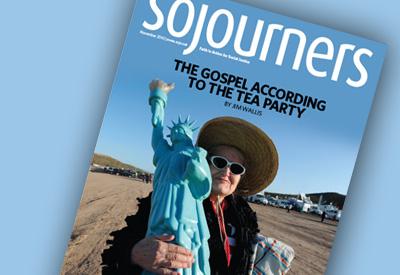 Few Americans have done more for establishing the theological framework for Christian pacifism than John Howard Yoder. In 1983 Yoder, a Mennonite, gave 11 lectures to the Polish Ecumenical Council on the history of nonviolence. In Nonviolence—A Brief History: The Warsaw Lectures (Baylor University Press), Yoder's lectures are published for the first time. Topics include the U.S. civil rights movement, just war tradition, Jewish pacifism, the science of conflict, and, notably, three lectures on Roman Catholic peace theology (with examination of Vatican II documents and reflections on the Catholic Worker movement).
Catholic feminist theologian Mary C. Grey's The Advent of Peace: A Gospel Journey to Christmas(SPCK) uses contemporary political conflicts, particularly in the Middle East, to interpret the Advent readings and engage Christians more deeply in the incarnational call to be peacemakers.
Living With the Wolf: Walking the Way of Nonviolence, edited by Peter Ediger (Pace e Bene), collects 50 stories from 20 years of Christian peacemaking through the Pace e Bene community based in Oakland, California. Contributors include: Mary Litell, Josephine Olagunju, and Louis Vitale. Since 1989, Pace e Bene trainers have led 600 workshops on nonviolent social change.
Grungy subculture artist and writer Ho Che Anderson released the hardcover King: A Comics Biography -- The Special Edition (Fantagraphics Books), combining his three-part Martin Luther King Jr. graphic biography with additional extras about Anderson's creative process. Toronto-based Anderson, a leading artist in black American comics who is influenced by Howard Chaykin (Black Kiss) and the Hernandez Brothers (Love and Rockets), depicts a gritty King who is both inspiring orator and womanizer, political radical and late-night clubber, Christian pastor and FBI target. In his black-and-white comic-noir style, Anderson displays the mechanics of Kingian nonviolence in an authentic, accessible, and enjoyable format.
Bonhoeffer and King: Their Legacies and Import for Christian Social Thought, edited by Willis Jenkins and Jennifer M. McBride (Fortress Press), doesn't have any pictures, but includes essays from 20 leading ethicists, theologians, and practitioners on these two men who hold such esteem in Christian social imagination. Racism, martyrdom, communitarian ethics, social sin, nonviolence, peacemaking, Catholic social teaching, charity, and worship are a few of the topics addressed.
More life stories out of the Southern freedom struggle are found in three very different recent releases. Katherine Mellen Charron's Freedom's Teacher: The Life of Septima Clark (University of North Carolina Press) is the ultimate history on African-American women leaders in the Southern civil rights movement and their unique, strategic organizing efforts in segregated educational systems and through their own civic and social clubs. Septima P. Clark, creator of the Citizenship Schools that were critical for enfranchising African Americans, joined the NAACP in Charleston, South Carolina, in 1919, at the age of 21. Until her death in 1987, Clark was a savvy, pragmatic organizer for human rights, fully dedicated to Christian nonviolence.
A few states over, in the mid-1950s, white Baptist preacher and hell-raiser Will D. Campbell was run out of Louisiana and unceremoniously dropped from his academic position at Ole Miss because of his garrulous, foul-mouthed, fully prophetic, biblically sound defense of Jesus and black folk. In Writings on Reconciliation and Resistance (Cascade Books), Campbell's essays skewer the liberal and progressive American church for believing the lie that social change comes through acquiring legislative power, political science, and insider persuasion rather than by throwing ourselves fully on the scandalous politics of Jesus.
Third, The Only Alternative: Christian Nonviolent Peacemakers in America (by Alan Nelson and John Malkin, Wipf and Stock) is a slim volume containing the stories of Rufus Jones, Martin Luther King Jr., Dorothy Day, Thomas Merton, Jim Douglass, and Kathy Kelly. Lead author Alan Nelson, a clinical psychologist who studied with Carl Rogers, diagnoses the social violence in America and argues that Christian peacemaking is a necessary antidote.
Rose Marie Berger is an associate editor of Sojourners.