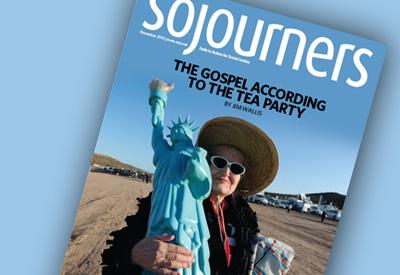 In the mid-1970s, I spent a year in Mexico doing neurological research at a hospital caring for severely malnourished children. Most of the babies were so sick when they were admitted that they couldn't even cry. At the time, in Mexico and Central America, the wind of liberation theology was blowing through the Catholic Church. Carried on the current were the words, "the voice of the poor is the voice of God." Dimly -- I had no blinding road-to-Damascus insight -- I wondered if God could be speaking in the still, small voices of my babies.
When our family returned from Mexico, I went back to my work at Washington, D.C.'s Children's Hospital, but I was uneasy. I began to dream of a community center for families with infants and young children -- a place that could break the intergenerational cycle of deprivation by offering low-income struggling families education, support, health, and social services early in their children's lives. I mentioned the notion to Gordon Cosby, the minister at the Church of the Saviour, of which I was a member.
About a year later, as I edged around the back of a room where people were sharing supper before classes in the church's School of Christian Living, Cosby called to me: "Ann, why don't you tell us about the call you have been hearing?" I wasn't in the least ready to say anything that evening—or, perhaps, ever. I was annoyed: Was this an invitation or a challenge? But as I talked, I saw two faces in my audience light up. After I finished, Barbara Quist and Betty Price stampeded across the dining room. I learned that Betty's first grandchild, only a few months old, had Down Syndrome, and the diagnosis was tearing her family apart. Barbara taught a first-grade class in which more than half of the children were not ready to read. Some of them didn't know their last names.
We started to meet regularly and formed a "mission group," fleshing out a vision of health care in which a person's economic and social circumstances were seen to be every bit as relevant to their well-being as high blood pressure or asthma. We expected that the patients center would receive substantial funding from Children's Hospital, where I worked, and which was in the process of applying for millions of dollars from the U.S. Department of Health, Education, and Welfare for programs to prevent adolescent pregnancy and help the high-risk children of adolescent parents. Then we got the bad news. Children's Hospital was not awarded its grant. This was in the early years of the Reagan retrenchment: "Big government" was bad, which translated into cuts for children's health programs.
The mission group held a prayer meeting. Our dream was too vivid to vanish into thin air, but our prayers did not keep us from being scared. Wherever would we get the money? The expertise? A place? The licenses and permits? The time to do all that needed to be done? Except for one grandmother in poor health, we all had full-time jobs. And always we circled back to the money. From our prayer and struggle, there emerged a renewed sense of call. Feeling like beginners plunging down a ski run, we formed a board and incorporated ourselves as a nonprofit agency: The Family Place.
Family Place rented a dingy basement on Columbia Road in the Adams Morgan neighborhood. We painted the walls bright colors and furnished the space with old, comfortable sofas and a donated washing machine and dryer. About three miles removed from the Washington of museums, monuments, and government buildings, Family Place's neighborhood was predominantly low-income -- and tough. The convulsion of riots and burning that followed Martin Luther King's murder had subsided to gray ash, but littered streets and boarded-up storefronts signaled the city's abandonment.
When we signed the lease for Family Place in 1979, we did not foresee that the neighborhood would soon be the destination of entire Central American villages plodding north. First a handful of mostly young people came, escaping from the murderous violence at home in El Salvador and Guatemala. If you asked why they risked death and loneliness, the answers were various, but they usually echoed words I'd heard in my World War II childhood, from Franklin Roosevelt's stirring 1941 declaration: freedom of speech, freedom from fear, freedom from want, freedom to worship. On my bedroom wall, my parents had pasted the Norman Rockwell posters illustrating Roosevelt's words. The refugees had never heard of Rockwell, or Roosevelt either, but the "four freedoms" were what they wanted. Most of the new arrivals were young adults, meaning that, of course, many pregnancies and births would ensue.
Family Place's very first client, a homeless 19-year-old girl, hobbled in on crutches. She had slipped on ice and fallen down a flight of stairs. In the process of caring for her broken leg, the hospital emergency room diagnosed her pregnancy. Family Place was on its way.
Our primary concern was the health and well-being of all those new babies. The children who were born on the journey to the United States shared their parents' status as undocumented immigrants. Where could they get medical care? What about school? Those who were born on the U.S. side of the border became citizens by birth. But where could the births safely take place? When Family Place started, some women in labor were turned away from hospital emergency rooms because they had no papers and couldn't pay. Sometimes a Social Security number was demanded.
With other service providers, gradually a system of medical care was built for the ever-increasing number of immigrants. At first these were church-basement affairs with volunteer doctors and nurses attending two or three nights a week. We begged and borrowed supplies and pharmaceuticals. Joe Citro, Family Place's director, a devout Catholic ex-priest and thus an expert on guilt, negotiated with Washington's Catholic maternity hospitals for free prenatal care and delivery: "They're all good Catholics," he would remind mother superior hospital directors. And the miracle occurred -- 100 free deliveries were promised (and delivered)! We patched services together, happy when we could do so, well knowing that this was no way to run a health system.
Many Family Place families came to us anxious, depressed, or overwhelmed by upheavals such as homelessness, abuse, and illness. Some of them forgot, or perhaps they never knew, that their infants needed more than food and diaper changes. Families in crisis certainly needed help with food, shelter, clothing, and access to medical services, but they needed more: to be welcomed and made to feel entitled to decent treatment. "You care about us," said one new mother. She could count on finding substitutes for her faraway family, folks to congratulate her and "ooh" and "ah" over her beautiful child. And she could get diapers, a crib, and a ride home.
Poor people, even those with Medicaid or a card entitling them to medical charity, food stamps, or other services, had to take whatever they could get in the way of care. Family Place parents themselves often agreed with the policies of welfare departments and clinics: They felt their bad treatment was no more than they deserved. Public clinics were meant to be frustrating tangles with long wait times, rude desk clerks, shifting eligibility rules, mysterious shuffles from one specialty clinic to another, lost records, unavailable diagnostic tests, and the ordeal of being seen by a different, and often inexperienced, physician at each visit.
For Spanish or other foreign-language speakers, the confusion was deepened by the lack of English translation services. The patient's child might be pressed into service: "You have diabetes." "Tu tienes diabetes." "Have this test, make an appointment with this specialist, fill this prescription, lose 10 pounds, come back in three months." "Tenemos que hacer el examen de sangre; sacar una cita con el especialista; buscar la medicina; seguir la dieta; tenemos que regressar en tres meses." Would the 9-year-old get it right?
Or one of the cleaning crew who happened by the door of the consultation room might be enlisted to translate. A cleaning lady of my acquaintance found herself saying to a patient on an examining table, "You have cancer." "Lo siento. Usted tiene cancer." Then she took the shocked, weeping stranger into her arms to comfort her.
Family Place's mission group was well aware of Washington's three medical schools and ample supply of doctors and medical facilities. But all this could have been on another planet. The problem was poor people's limited access. They didn't know; they couldn't pay; they were discouraged from trying to climb over the barriers to health care. When Family Place started, fewer than half of Washington's children got the immunizations they needed. The city's rates of teen pregnancy, preterm birth, infant mortality, and low birth weight were the highest or near the highest in the country. Although we weren't sure how to do it, we wanted those numbers to change.
Today, huge disparities still exist between rich and poor, and threats to immigrant families abound, but gradually a system is being built, flawed though it remains, that meets children's needs more adequately.
Every child at Family Place has a health-care provider, immunization rates are better than 90 percent, and many more Spanish-speaking health and social services workers are available. In the surrounding community, public schools and other agencies provide English language instruction, and more native English speakers are learning to get along in Spanish. One of the pleasures of working at Family Place is meeting those young adults whom we first met as babies, who have gone to college, have decent jobs, and are starting their own families.
In 2009, nearly 600 families came to Family Place. Many thousands are served by Columbia Road Health Services, Unity Health Care, Mary's Center, and other missions that came into being as a result of calls to care for neglected outsiders.
Family Place shares the economic uncertainties of the families we serve. At times manna is given only for the day. But it has rained down -- from churches, synagogues, and individuals, from diverse philanthropic groups, and through government agencies. The families of Family Place participants and former participants give generously of their time, talents, and money. A board member, grateful to God for his own two adopted sons, gave the $100,000 that enabled us to complete the purchase of our building. Another gave $100,000 because God was calling for her to give away all her assets.
And for more than 30 years the mission group has met for prayer, reflection, and Family Place's business nearly every week. In spite of our inevitable mistakes, disappointments, and setbacks, our faith that God hears the prayers of the poor has not wavered. When one of us is discouraged, we have found that God gives another the strength and courage to tide us over the rough place.
On a recent Sunday afternoon I went over to Family Place for a Mothers' Day party. Children were running around the porch and a crowd was inside eating and singing. A woman holding her baby greeted me at the door. We had never seen each other before. "Bienvenido," she said. "Mi casa es tu casa." In that moment, all that divided us -- language, ethnicity, education, status -- disappeared. We were both members of the beloved community in a promised land where no one is a stranger. This is the vision that sustains us.
Ann Barnet, M.D., serves on the board of directors and mission group of Jubilee JumpStart and Family Place in Washington, D.C. Her memoir, Border Crossings: A Spiritual Journey in Medicine, will be published early next year.