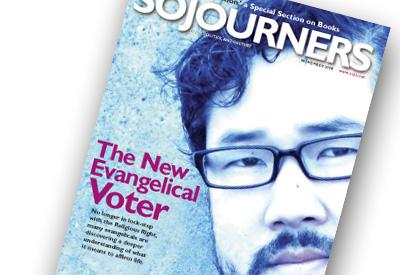 God is in the details—or is it the devil? Authenticity certainly lurks there, which is abundant in the best fiction. Uwem Akpan understands this. When writing about Rwanda, he wanted to get the details right. Marriage customs, traditional dress, the color of the earth—the small, everyday matters that make a story come alive and that inhabitants of a place will spot right away if a writer gets it wrong. So Akpan attempted to travel to Rwanda for research.
But his superiors wouldn't let him take the trip—they preferred that he remain at his seminary in Kenya. He was resigned to asking questions of his Jesuit brothers in letters and e-mails, and left to imagine Rwanda's earth.
Akpan is most likely the first Nigerian Jesuit priest to have two stories published in The New Yorker, that Holy Grail for short story writers. "An Ex-Mas Feast" and the Rwanda story "My Parents' Bedroom" are both featured in his first collection, Say You're One of Them, published last June by Little, Brown and Company. In two novellas and three stories, he juxtaposes startlingly lucid writing and imagery with nearly unspeakable situations—child trafficking, genocide, religious and tribal divisions and violence, and desperate poverty. Each of the stories takes place in a different African country, and all are told through the perspectives of children.
Here's the voice of 8-year-old Jigana at the opening of "An Ex-Mas Feast": "Now that my eldest sister, Maisha, was 12, none of us knew how to relate to her anymore. She had never forgiven our parents for not being rich enough to send her to school."
This scene could be set in a suburban Cincinnati home. Com­plaining little brothers and moody older sisters are not, after all, unique to Africa. The twist comes at the end of the paragraph: "Sometimes Mama went out of her way to provoke her. 'Malaya! Whore! You don't even have breasts yet!' she'd say. Maisha would ignore her."
Maisha, it turns out, is the family breadwinner. She works as a prostitute to send her brother to school and to buy food for the family, including a 10-year-old sister, 2-year-old twins, and a 3-month-old called Baby. Jigana carries Baby with him when he begs on Nairobi street corners, to heighten sympathy and increase the small pile of coins. When the food runs out, Mama gives the children shoe glue to sniff to take away the pangs that convulse their stomachs.
The devil takes center stage in details like these throughout the book. Evil abounds. God is more elusive.
FOR SOMEONE DRAWN to writing about the shadow on the human soul, Akpan is an unexpectedly jolly man. He laughs easily and often until he's breathless and gasping, laughter that sometimes pitches into giggles reminiscent of a girl Maisha's age. It is not difficult to imagine him inhabiting the mind of a child.
"I started off writing about adult issues. Then I realized that nobody was writing about children in these different countries, these difficult situations. So I decided to have a go at it," Akpan said during a presentation at Calvin College's Festival of Faith & Writing in April.
Fifty years ago, Akpan's countryman Chinua Achebe published his first novel, Things Fall Apart. It is a cornerstone of modern world fiction and the most widely read novel in contemporary African literature. More than 11 million copies have been sold worldwide, and it has been translated into 50 languages. In recent years, several young Nigerian writers have gained international prominence and readers, among them Chris Abani (Graceland), Helon Habila (Waiting for an Angel), and Chimamanda Ngozi Adichie (Half of a Yellow Sun), a 2008 MacArthur Fellow. This elevated attention can partly be attributed to the Caine Prize for African Writing (worth around $17,000 U.S.), instituted in 2000. Habila won the Caine Prize in 2001; Adichie was short-listed in 2002, as was Akpan in 2007.
Originally from the southern Nigerian village of Ikot Akpan Eda, Akpan, 37, joined the Jesuits when he was 19 years old; he was ordained in 2003. Both of his parents were teachers. He grew up reading Shakespeare and listening to stories the village elders told after Mass as they sat together, drinking palm wine. Akpan started off writing nonfiction, submitting articles to the Nigerian Guardian in 1998. They rejected him. But the publication included fiction in its Saturday issues, so he gave that a try.
"The quality of my stories was not very good, but I could raise the readers' adrenaline. So I was happy to be serialized for 11 consecutive Saturdays," he told a New Yorker reporter in 2005.
His Jesuit formation continued with studies at Creighton University in Omaha, Nebraska, Gonzaga University in Spokane, Washington, and at the Catholic University of Eastern Africa in Nairobi. Although he continued writing, living in community with other Jesuits posed an obstacle. He could only use the communal computers late into the night when the others had finished with their studies.
"Seminaries train priests—they don't train writers!" he recalled, laughing, during his Calvin College lecture. "They told me, 'This whole thing you're doing, you're on your own.'"
But the Jesuits did allow him to pursue a graduate degree in creative writing. In 2004, he enrolled at the University of Michigan. He felt like he needed to learn the craft of fiction: plot, dialogue, scene-making. He already innately understood how to create tension in a story, as this opening of the novella "Fattening for Gabon" demonstrates: "Selling your child or nephew could be more difficult than selling other kids. You had to keep a calm head or be as ruthless as the Badagry-Seme immigration people. If not, it could bring trouble to the family."
Ten-year-old Kotchikpa and his 5-year-old sister, Yewa, are children living in Benin who are to be sold to traffickers in Gabon. After their parents died from AIDS, they went to live with their uncle, Fofo Kpee. A scarred face gives Kpee the appearance of a permanent smile: "Though he tried to cover the scar with a big mustache, it shone like a bulb on a Christmas tree."
Kpee loves his nephew and niece; he feeds them and buys them schoolbooks. And they return their fofo's love. But Kpee is the one who makes the arrangements to have the children sold. He also tries, while drunk one night, to explain sex to them before they are to leave him. The implications of what they will be doing in Gabon are left unstated.
"These children are just like us," Akpan said. "We love people in our families. We also use them. Family relationships have not been known to be very easy for many people.
"And people are complex, to say the least. No matter how badly somebody acts, I try to put some qualities in them that are good, something to complexify the character for the reader."
THOUGH HE found it difficult to be a writer living in community, Akpan sees no conflict in his dual vocations. He looks to an example that came before him.
"More and more, I'm beginning to believe that Christ was both a priest and a poet. The parables he told, the way he always found to bring in stories. There was always something very poetic and sensitive in the way he was not willing to flow with the legalities."
Akpan himself has a poet's eye. Precisely rendered sentences haunt the reader as indelibly as the children's stories do:
"Prostitutes fluttered about under streetlights, dressed like winged termites."
"… all three were sleeping, tangled together like puppies."
"She slips into the beautiful black evening dress that Papa likes and combs out her soft hair. I help her with the zipper at the back of her dress. She paints her lips a deep red and presses them together. The sequins on her dress glitter in the candlelight as if her heart were on fire. My mother is a very beautiful Tutsi woman."
There's a word that conjures heart-breaking images. In Rwanda, the Hutu majority slaughtered 800,000 Tutsis in less than 100 days, mostly with machetes. The book's title, Say You're One of Them, comes from "My Parents' Bedroom"—the phrase is a mother's admonition to Mo­nique, the narrator who is "9 years and seven months old" in April 1994. Her beautiful Tutsi mother is married to her Hutu father.
Akpan tells the story in present tense, and you long to cry out to a silent God to stop the inevitable. But even here, especially here, he seeks out complexity.
"There's no story there if the man had hated his wife, hated his family. This man loved his family," Akpan said. "So the tragedy would be what has pushed him to commit this atrocity."
The question is greater than that, even. Why does evil win sometimes? More fundamentally: Why is there evil in the world at all? Why does God allow suffering? What loving God would let Monique's toddler brother, Jean, stamp around in his mother's blood "as if he were playing in mud"?
They are questions as old as the story of Job and as recent as reports of 5 million people killed in the Democratic Republic of the Congo since 1998. They have spawned a discipline, theodicy, and best-selling books that have led their authors to reject God. Akpan understands the questions.
"There is evil in my stories and in the world. I have no answers to the problem of evil." As a priest, he cannot answer the unanswerable questions. But as a writer, he can hold a light up to expose the darkness and tell the stories of some of Africa's children. He is acutely aware of the responsibility that comes with that role.
"One of my teachers at Michigan said something very moving to me. He said, 'You've got to make sure the stories work very well. Remember, these children have been used. By their parents, by their governments. Even some NGOs used these children to make money, and some of this money is not getting to them. The last thing you want to do is just use their voices to tell your story.' I don't want to go and colonize another country and their people. That's what you do when you show people as they are not."
Akpan knows these children seemingly as well as he knows himself. He has no answers for evil, but he does have an answer. He proclaims it loudly in a radio interview for his book.
"Yes. I say yes! God is alive." And the belly laugh returns.
God is in the details, in the exuberant laughter that echoes after a poet-priest who can close his eyes, imagine the ungodliest of horrors, and still believe.
Kimberly Burge, a Sojourners contributing writer, is senior writer and editor at Bread for the World in Washington, D.C.