God is always on the side of the marginalized, the people who are the weakest and poorest. That includes the unborn and their mothers, but it also includes people who lack health insurance and folks who can't find jobs in a global economy," says Rich Nathan, pastor of Vineyard Church of Columbus, in Ohio.
Sojourners editor Jim Rice and assistant editor Jeannie Choi heard echoes of this sentiment as they spoke with evangelicals from Seattle to Boston about the issues they're focused on this election season. What they found is that evangelicals, especially those in their 20s and 30s, are applying their faith in deeper ways to a wider set of issues. In particular, many are coming to understand the term "pro-life" more broadly—as having to do with the war in Iraq, for example, and the creation of just economic policies and adequate health care. In "The Meaning of 'Life'" Rice and Choi go beyond the polls to bring you the voices of people who, like all of us, are grappling with how to vote their values in the upcoming election.
Telling the stories behind the headlines is also the theme of our special section on faith and fiction. In "Through the Laughter and the Tears," Kimberly Burge profiles a Nigerian writer and Jesuit priest, Uwem Akpan, whose rich—and sometimes harrowing—stories you won't soon forget. You'll also find an interview with novelist and science-fiction writer Mary Doria Russell about how she approaches her work. That, plus our two compilations of intriguing books, should keep you busy—long after you've returned from the voting booth.
—The Editors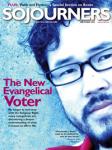 This appears in the November 2008 issue of Sojourners
Got something to say about what you're reading? We value your feedback!