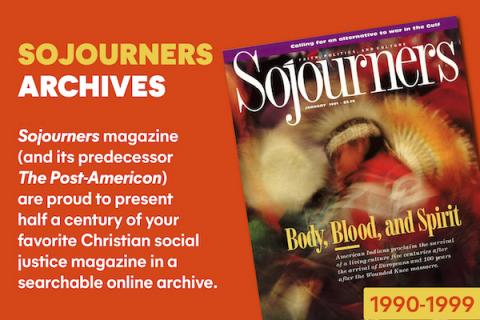 Following are two meditations from Clothed With the Sun: Biblical Women, Social Justice and Us, by Joyce Hollyday. The forthcoming book, titled after the woman in Revelation 12 who is empowered by the glory of God, contains 50 meditations pairing biblical and contemporary women, each with questions for individual or group reflection.
Joyce Hollyday, a contributing editor for Sojourners, has traveled widely as a writer, activist, and retreat leader. She lives in North Carolina's mountains, where she works with survivors of domestic abuse. —The Editors
Rizpah (2 Samuel 3:6-10; 21:1-14)
It rends the heart to read the story of Rizpah. She is one of the most tragic figures in the Bible. She was a concubine, a sexual slave. The one who laid claim to her was King Saul, a man of great power.
After Saul's death, his son Ishbaal accused Abner, the commander of Saul's army, of raping Rizpah. The charge had nothing to do with Rizpah's humanity or dignity but with a violation of the king's property; the rape was considered an act of treason. Furious at the accusation, Abner transferred his loyalties to the house of David.
The war between the houses of Saul and David was protracted and bitter. A three-year famine in the land during the reign of David pushed him to take action. Believing that the famine was punishment for Saul's massacre of the Gibeonites, David asked the surviving Gibeonites what they needed for expiation. They demanded seven of Saul's sons. David gave them five of Saul's grandsons and his two sons by Rizpah, Armoni and Mephibosheth. Some translations say that the young men were hanged, others that they were impaled, on a mountain at the beginning of the barley harvest. We can believe that their deaths were horrible. Rizpah was consigned to be a helpless onlooker in the vengeance games of men, triply jeopardized as a concubine, widow, and mother without sons.
But Rizpah did something amazing. Moved to action by her profound grief, she refused to remain merely a victim and spectator. Alone, in an act of defiance, the woman whose name means "glowing coal" went to the mountain, to the distorted, sun-scorched bodies of her beloved sons. She spread sackcloth on a rock, making herself a place that would be her home for five long months. She was a victim of the sins of others, but still she made a vigil with sackcloth, the symbol of penitence.
What a vision she must have been, spread on that rock week after week, weary from grief and the task of protecting the sacred bodies that had been so dishonored. When vultures hovered near, she flailed her arms to scatter them. When wild beasts came with an appetite for decaying flesh, she drove them away with rocks and shouts. In the stifling heat of the day and the chilling air of night, she remained, quivering with fatigue and perhaps fear. Some people probably applauded the courage of this devoted mother. Others must have thought she was mad. They praised or pitied or mocked her. But she never gave up.
One morning, she awoke to gentle drops of rain mingling with her tears. From the beginning of spring to the first rain of autumn, she had kept her solitary vigil. King David was so moved by her perseverance that he gathered up the bones of Saul, his son Jonathan, and those over whom Rizpah had kept watch. Left in a state of dishonor for so long, the bones of David's rival and his kin were finally buried with honor.
Rizpah, the pawn in the games of vengeance and division between the houses of Saul and David, becomes the reconciler. She who is victim of their sins offers the sacrifice that moves God to open the heavens and return abundance to the land.
Rizpah is every mother who has grieved, every mother who has suffered the loss of a child, every mother who has learned to forgive. She is the mother in Nicaragua who plants a cross in memory of her fallen son, demanding that he not be forgotten. She is the mother in South Africa who compiles affidavits of torture and murder and delivers them to the office of the minister of law and order in Pretoria, demanding justice. She is the Palestinian mother rocking a refugee camp with resistance on behalf of her murdered child, and the mother in Detroit who marches for an end to the violence claiming children in the streets.
In El Salvador, she fasts at the tomb of the late Archbishop Oscar Romero and occupies the cathedral in San Salvador, demanding an end to the repression. She has journeyed to the volcano outside the city, now a dump, where human corpses are strewn among the garbage. A modern-day Rizpah, she waves away the vultures as she searches for a body she hopes not to find.
She walks a path in Guatemala more traveled than any other—from prison to hospital to morgue. It is a path worn bare by the constant steps of weary but determined feet in search of the truth. Each mother who walks it carries the faint hope of finding a disappeared loved one alive. But each knows that finding a body is better than living one more day with the haunting uncertainty that obsesses the soul when there is no trace.
In Argentina, her name is Hebe Pastori Bonafini. She marches through the Plaza de Mayo with a picture of her disappeared son, his name embroidered on her white kerchief, demanding that the government account for him. She is a dressmaker. She and the other mothers who march weekly in their silent circle have been beaten and dragged away by their hair. Forty were once imprisoned in a cell that they shared with a dead young man who had been tortured beyond recognition. "On seeing him," Hebe says, "the pain came back. We didn't know if he was one of our sons. The police do these kinds of things to put pressure on us, to show us how powerful they are, how regrettably powerful they are."
Government officials say that the mothers are barren women hallucinating that the military has stolen the children of their dreams. Authorities dismiss them as las locas—"the crazy ones."
Hebe's hands turn into fists when she speaks of her sons, both university students in their 20s when they disappeared. "Every morning when I wake up, I think only about my sons and what I can do to take them from where they are. It is as if lions grew inside of me, and I am not afraid."
In Northern Ireland, Maura Kiely is a modern-day Rizpah. Her son Gerard was killed as he attended Mass in Belfast, one of a multitude of victims claimed in the violence between Protestants and Catholics. "People say that time heals," says Kiely. "Time itself does not heal. It is what we do with time that can heal."
Time moves on, and days come and go, but the sun never sets on repression and war. From Belfast to Beirut, Kabul to Krakow to Kigali; from Sarajevo to Santiago and San Salvador to Saigon; in Gaza and Guatemala City; in Managua and Manila, Moscow and Mogadishu; in Phnom Penh and Pretoria and Port-au-Prince, the war machine cranks around the clock and through the ages, its shots heard 'round the world.
But in a world where too many hands grasp rifles and too many fists beat bodies, other hands are reaching out to clasp one another in an act of comfort. The healing truth that one mother found in Northern Ireland is being discovered, day in and day out, in other corners all across the globe. They call themselves Mothers of Heroes and Martyrs (Nicaragua); Detainees' Parents Support Group (South Africa); Committee of Mothers and Relatives of Political Prisoners, Dis-appeared, and Assassinated (El Salvador); Mutual Support Group for the Appearance Alive of Our Loved Ones (Guatemala); Mothers of the Plaza de Mayo (Argentina); the Cross Group (Northern Ireland); Save Our Sons and Daughters (United States).
In every language, and by their lives, they reflect the truth about their own suffering that Maura Kiely learned: "I believed that life for Gerard was not taken away, just changed, and that we had still to struggle to live the faith for which he died. There are, I believe, no accidents in this life as far as God is concerned. Out of evil, it is said, comes good. I committed myself to work for reconciliation among bereaved families."
Thanks to one mother's courage and capacity to forgive, Protestant and Catholic families in Northern Ireland are sharing their grief together. In South Africa, white women of the Black Sash have protested apartheid's oppression of black women. In Israel, Jewish "Women in Black" have held weekly vigils to demonstrate their opposition to their nation's occupation of Palestinian lands. Despite government declarations that these women are enemies to one another, they have claimed a bond as sisters.
On every continent, mothers of grief are becoming mothers of hope as they transform their sorrow into a force for change. These mothers are finding that what they do with their time can indeed heal—not only themselves and one another but also the nations. One of the strongest forces on earth is in their possession: the power of mother love. They have set loose on the globe a hope that is shaking the very foundations of the world. And as they meet and pray and weep and strategize, they offer a precious gift: a promise to the world's children that they will not be lost or forgotten.
The Forgiven Woman (John 8:2-11)
I met Tanya in 1985 in a holding cell in the D.C. jail. She was there for stealing to support a drug addiction; I was there for protesting U.S. policy in Nicaragua in front of the State Department.
"Doesn't this hurt your heart?" Tanya asked Millie, a friend sitting next to me, who had also been part of the demonstration at the State Department. As she spoke, Tanya pointed at Millie's scar from open-heart surgery, visible above the edge of her prison jumpsuit. Being processed into prison is a grueling routine, one in which it is difficult to maintain even a semblance of dignity, and I was touched by Tanya's compassion for a stranger.
Tanya was a beautiful and gentle woman with scars of her own: needle marks running the length of her arms. She listened raptly as Millie talked about her brush with death and as she declared her gratitude to God for the gift of life.
"Yes, God knows your heart," Tanya said gently. "God is giving me a second chance, just like he gave you a second chance." Stating her determination to beat her drug addiction and get her life together, Tanya added, "God always gives us second chances."
Tanya was like so many of the women I met behind bars—abused as children, forced into desperate situations as adults that pushed them to pass bad checks, or use illegal drugs, or peddle their bodies. With few exceptions, these women had committed crimes in which they themselves were the primary victims. They were victims of sexism and racism, of sorely lacking financial and emotional resources, of government priorities that excluded them, and of politicians and bureaucrats who wished they would go away (as some of their families had wished since the day they were born). And they were victims of their own bad choices.
But they taught me about God's forgiveness and about being given second chances—and third and fourth. They knew, like the woman caught in adultery, what Jesus' message is really all about.
It is telling that only one partner in adultery was brought before Jesus by the scribes and Pharisees. Hebrew law was clear that the punishment for adultery for both the man and the woman was death (Leviticus 20:10; Deuteronomy 22:22). Yanked away from her lover, disheveled and half-naked, the woman was dragged alone into the temple and made to stand before all the people. She was an object lesson in the efforts of the legalistic scribes and Pharisees to snare Jesus. Perhaps she had even been set up for their trickery.
The synagogue leaders put Jesus in an apparently no-win situation. Jewish law stated that the woman should be stoned to death. Roman law made it illegal for Jews to enforce the death penalty. The leaders were forcing Jesus to choose, ready to bring a charge against him for violating one law or the other.
But Jesus did not fall for the trap. He quietly turned from the spectacle and began writing with his finger on the ground. Conjecture about what he wrote has occupied scholars for centuries. Perhaps he was just scribbling aimlessly, thinking through his answer and buying time while the scribes and Pharisees watched, letting them know he wasn't rattled. Or maybe he was writing words such as "pride," "lust," "hypocrisy," and "unforgiveness." Maybe the obsessive keepers of the law were being forced to read a list of their own sins traced in the dust.
Meanwhile, the unnamed woman waited as this drama unfolded. As an object of shame and condemnation before the crowd, she likely stood with head hung, trying to cover herself, feeling exposed and fearful, expecting the worst. A few in the crowd picked up stones, and she began to imagine the blow of them hitting her flesh, the sting of their judgment. She was staring into the face of a brutal and humiliating death; and neither the law nor the mob was on her side.
But with one statement, Jesus took the vengeful wind out of the accusers' sails: "Let anyone among you who is without sin be the first to throw a stone at her." There was a pregnant pause. No one moved. Then, slowly, one by one, the stones dropped, the crowd walked away, the elders leading the way.
Jesus turned the religious leaders' trap around on them. If they threw a stone, they committed blasphemy by claiming they were sinless. Not to throw a stone meant admitting their guilt. And in fact, they were guilty—of using this woman as a scapegoat, an object, a pawn. Jesus treated her as a daughter of God. There was a moment of awkward silence as the two were left alone standing in the dust. Jesus spoke first. Making a point for emphasis, he invited her to look around and see for herself that no one remained. "Woman, where are they? Has no one condemned you?"
"No one, sir," she answered, still trembling in disbelief that she had been pulled back from the edge of death.
"Neither do I condemn you," said Jesus, his gentle eyes riveted on hers. A balm of reassurance. No one is perfect. Now go, forgiven, and live a new life.
In 1981, I spent a night stretched out on the concrete floor of a large holding cell beneath the Washington, D.C. courthouse. This time 51 of us had blocked a driveway during a nuclear arms exposition at a Washington hotel, an offense that was officially entered on our records as "incommoding."
The cell across from ours was filled with women swept up in a raid on a local house of prostitution. Sometime in the middle of the night, a large woman being let into the cell looked over at us and asked loudly, "What did they do to get in here?"
A young woman named Gloria in her cell said with a giggle, "They incommoded!" and then added, "At a hotel!"
Early the next morning, a few women in our cell began to sing. Gloria shouted across to us, "Hey, do you all know 'Amazing Grace'?" Soon the two sides of the cell block were trying to outsing each other, and strains of the hymn thundered through the long corridor.
Gripping a contact lens in each fist, as I had throughout the night, I groped blindly toward the chrome contraption that served as drinking fountain, sink, and toilet for our cell. Searching for water for putting my lenses back in my eyes, I pushed what I thought was the tap for the sink. The deafening roar of the jail toilet immediately silenced the singing. Gloria glared at me from across the corridor, pointed a finger, and hollered, "Now, that's incommoding!"
The entire cell block erupted in laughter, with Gloria laughing the hardest. Then she started up again with "Amazing Grace." Before long, a brusque male guard came back to find out what all the commotion was and to silence us. Gloria jumped up, pressed her face against the bars, and said to him, "It's only the gospel."
And indeed it was. Women who understood forgiveness and mercy were teaching me about the grace of God. "Amazing grace, how sweet the sound, that saved a wretch like me; I once was lost, but now am found, was blind, but now I see." n
Excerpted with permission from Clothed With the Sun, by Joyce Hollyday © 1994 (Westminster/John Knox Press).