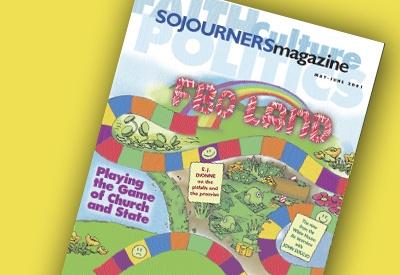 Some religious leaders, especially from within conservative evangelical Christian communities of faith, have worried out loud that religious bodies that receive government support will, over time, become dependent on Caesar's coin....They fear [that] government-religious partnerships will enervate the spiritual identities and characters of the participating churches and stifle their prophetic voices. Even if strictly limited to public support for specific social service delivery programs, they fear the resulting secularizing influences put the churches on a super-slippery slope to losing the "faith" in "faith-based."...
Such concerns are entirely understandable and, for many congregation leaders and faith communities, ought to be controlling. Charitable choice ought to be open to all qualified community-serving groups, but not all groups ought to participate. Faith leaders, organizations, and communities that perceive the slope as secularizing and slippery ought simply to opt out. But...America's faith communities are as diverse in their traditions of public-private partnerships as they are in their theological understandings.
In particular, compared to predominantly ex-urban white evangelical churches, urban African-American and Latino faith communities have benevolent traditions and histories that make them generally more dedicated to community-serving missions, and generally more confident about engaging public and secular partners in achieving those missions without enervating their spiritual identities or religious characters. There are, to be sure, many urban clergy who want nothing whatsoever to do with government as well. But the "hijacked faith" fears expressed by some are less pointed and less prevalent in metropolitan America....
With all due respect, and in all good fellowship, predominantly white, ex-urban evangelical and national parachurch leaders should be careful not to presume to speak for any persons other than themselves and their own churches....There are some old wounds within the churches that have yet to heal, wounds that require greater efforts at racial reconciliation and would benefit from less talk and more wholehearted "truth and action," as in 1 John 3:18: "Little children, let us love, not in word or speech, but in truth and action."
In all truth and grace, and speaking now only for myself and as a fellow Christian, I would call upon the National Association of Evangelicals to (as we say on the inner-city streets) get real—and get affiliated church leaders and their congregations to get real—about helping the poor, the sick, the imprisoned, and others among "the least of these." We all have to have ears to hear and a heart to listen—and act. It's fine to fret about "hijacked faith," but to many brothers and sisters who are desperately ministering to the needs of those who the rest of us in this prosperous society have left behind, such frets would persuade more and rankle less if they were backed by real human and financial help....
Faith-based and community initiatives must be promoted in the interests of improving government performance and enhancing public trust. Community helpers and healers need and deserve our individual and collective help.
But they would need it less—much less—if the church behaved like the church, unified from city to suburb, working across racial and denominational divides, on behalf of broken lives and breadless families. 1 John 3:17 asks, "How does God's love abide in anyone who has the world's goods and sees a brother or sister in need and yet refuses help?"
Some say charitable choice places churches in "competition" with each other for public funds. Apart from the fact that nobody is placing anybody in public competition for anything, what about the fact that the private competition for funds—including the literally hundreds of millions of dollars raised and spent each year by national parachurch organizations—seems hardly to reach, and only weakly and episodically to benefit, the community-serving urban churches that witness "truth and action" to the poor every blessed day?
"Hijacked faith" can take many forms, few more harmful than the self-hijack that honors the poor in "word or speech" alone, if that.
Excerpted from March 7, 2001, speech to the National Association of Evangelicals.