Like the Titanic speeding toward that fateful iceberg, the United States is heading toward disaster. The impending decision to deploy national missile defenses could significantly increase nuclear dangers, undermining the foundations of arms control and provoking military countermeasures from Russia and China.
Building a defense against ballistic missiles has been a chimera of Republican orthodoxy since Ronald Reagan proposed a Star Wars shield during the 1980s to render nuclear weapons "impotent and obsolete." The current missile defense plan has a more limited design: to parry missiles from so-called rogue nations. The goal is no longer to fend off thousands of Russian warheads but to counter limited attack from North Korea, Iran, or other imagined foes. The Clinton administration has endorsed the Republican plan and has vowed to make a deployment decision this summer.
Despite the expenditure of more than $60 billion over the past 15 years (spending in 2000 will total $4 billion), the missile defense establishment has yet to produce a single piece of hardware with a proven ability to knock out long range missiles. All the tests for the system have been either complete failures or partial successes that were performed under highly controlled conditions unlikely to exist in the event of an actual missile attack. Even the Pentagon's own review panel, headed by retired Air Force Gen. Lawrence Welch, has admitted that the technology for national missile defense does not yet exist and termed the drive for rapid development a "rush to failure."
Flawed tests are no obstacle to missile defense zealots in Congress, however. When the latest interceptor missed its target over the Pacific in January 2000, Senate Majority Leader Trent Lott blithely brushed aside the failure and ruled out any delay.
Read the Full Article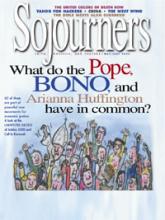 ​You've reached the end of our free magazine preview. For full digital access to Sojourners articles for as little as $3.95, please subscribe now. Your subscription allows us to pay authors fairly for their terrific work!
Already a subscriber?
Login