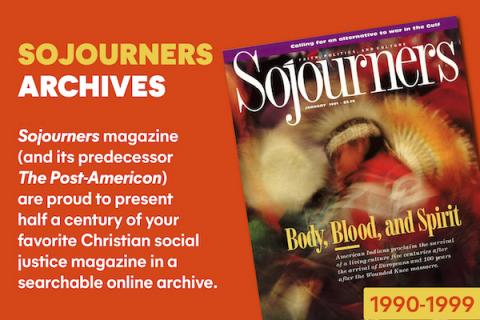 The Long Island is in dry dock six stories below the light-filled apartment of Rev. Yvonne V. Delk. Thick, muscular ropes coil on her decks. Sea birds drop shells to crack along her steel girders. Tugboats rub against her shoulders, waiting for the Great Lakes Dredge and Dock Company to complete repairs and lead her out to sea.
After 36 years of active ministry in the great cities of the North, Delk has come home to Norfolk, Virginia; home to the Elizabeth River and the Hampton Roads; and home to "Millionaires Row" where, as a child in the segregated South, she was never allowed to walk. "We were not able to come anywhere in this area without folk assuming you were a maid. Even in the '80s we used to ride by here at Christmas and be followed by security guards. That's my walk route now. It's got lovely benches and I can see the birds and the ducks. To retire here, to look out on Millionaires Row, makes me feel wonderful."
To sit in the presence of Yvonne Delk is to sit with living history. Not just of her life, but of the lives of her ancestors, and perhaps even of the land itself. Her skin is the shifting browns of the Nile. Her eyes flash like passing storm clouds with just a hint of blue. She wears her African beads like jewels; her hair like a crown. She is regal; a spiritual phenomenon, a mighty wind.
Delk was born in Norfolk's red light district in 1939. Her mother, Cora Elizabeth Chambers Delk, came out of school after sixth grade. Her father, Marcus Thomas Delk Sr., worked the shipyards during World War II, then dug graves at Norfolk's Calvary Cemetery, much to his young daughter's embarrassment. One of Yvonne's grandfathers was a longshoreman; the other, an oyster farmer. Her great-grandmother, Lucy Ricks, remembered when the Emancipation Proclamation was signed and told how the family had endured during slavery days. She also had the ability to communicate with people who had long since gone over to the other side. "When my great-grandmother came to visit nobody wanted to go to bed because we thought we would be seeing things that we didn't want to see. She had an ability to flow the boundaries."
That ability to flow boundaries is strong in the Delk women. "My mama was a praying woman, a Spirit-guide. We got prayed for every day we left out of that house. There is just something about getting ready to go to school and hearing myself prayed for by name. Mama was asking God to be on the watch for her children," Delk said. Her father's mother, Julia Anna Delk, was a Holiness minister who preached across the United States and abroad in the '20s and '30s. They are all women who lived across the boundaries. "There is a magnificent presence and power that comes from women who are deeply in touch with who they are."
Here begins the foundational story of Rev. Yvonne Delk. Her Isaiah 43. The moment she was dedicated to God. Cora Delk had her first child, Edward, in 1930, and, after thinking she wouldn't be pregnant again, little Audrey Marie was born six years later. But Audrey Marie soon contracted pneumonia and died, sending Cora into a deep depression. She withdrew so much she thought she was losing her mind.
What brought Cora out of her depression was the awareness that she was pregnant again. Yvonne was the life force growing within her. "Mama would get up because she wanted this life force to live. She would go to our church, Macedonia African Christian Church, and pray. She dedicated my life, which was also giving her life, back to God. When I was born, I knew that my life had been surrendered to God. Connection to my family, to these women, helped to create a core of existence in me."
Family is one of three important touchstones in Delk's life. The church, and God's call on her to help create a new heaven and a new earth are the others. For her, they are the answers to a central question: Who tells you who you are in ways that you are not free to walk away from?
Crossing the Line.
Those touchstones intersected on Sundays. Sundays were freedom days, free space, defining moments. Cora would put on one of her one or two nice dresses and her father would put on his "Sunday-go-to-meeting" suit. "My mama would be called by her first name all week by white bill collectors. My daddy got called 'boy' more times than I want to think about. But when they stepped into that church on Sunday mornings they were Sister Delk and Brother Delk, and we were their children. There was such power in the knowledge that I, Yvonne Delk, black and female, carried God inside of me."
But there was also the negative spirit of racism, which tried to diminish the power of God and the power of her mother and great-grandmother. And the battle between them was fierce. This was still the segregated South—not only with its Red Light districts but with old Jim Crow, laws named for an antebellum minstrel show character that created the South's racial caste system. Delk grew up with department store signs reading "ladies," "gentlemen," and "colored," with her streetcar seat already set aside at the back.
The preachers talked a lot then about the world as God intends. They would preach out of Isaiah and Revelation. No more tears, no more pain, no more weeping. They said there is the world as we see it now in its fallen, separated state—and then there is the world as God intends. It was this theology of liberation that eventually broke the back of Jim Crow. "At first I thought they were talking about when this life is over and another world comes into existence. But the more we read the scriptures, the more we understood that God intended for it to be right here and now. Therefore I had a calling to create the world as God intends it. That call is also one I am not free to walk away from."
God sent Yvonne an expanding circle of mentors to help her in this vision, mentors who helped her see her strengths and her liabilities. When Yvonne graduated from Norfolk State University in 1961, Rev. Percel Alston urged her to attend the then-all-white Andover Newton Theological Seminary in Boston rather than the all-black Virginia Union in Richmond. He told her mother it was time for Yvonne to stretch her wings.
Delk's world until then had been all black. Now she was the only African-American woman in Andover Newton's freshman class of 1961. The black Southern world in which she had been nurtured and shaped was gone. Nothing at Andover Newton reflected who she was; there were no black history courses, nor any women teachers. The God in whose image she was created seemed completely missing.
"I was frightened and yet feeling such a tremendous responsibility to succeed. Here I was the first African-American woman from the Convention of the South to go to Andover Newton. I knew Rev. Alston hoped this would open a pathway for other women from the Convention," she said. "The first three months I walked around in a fog, simply wanting to be left alone. People wanted me to talk about my experience, but I refused. I felt like they wanted to strip me naked and look into the depths of my soul, simply for the sake of observation."
Delk called her mother during the first weeks to tell her she was suffering a nervous breakdown and wanted to come home immediately. But her mother told her that her prayers were much stronger than any nervous breakdown Delk was having. Cora told her to hold on. Slowly the nervousness began to evaporate and, at the end of the first year, Delk knew she would be able to stay.
In 1962, students from Harvard, Boston University, and Andover Newton took buses south to join the Freedom Rides. On the Eastern Shore of Maryland, they went into a restaurant reserved only for whites. After a number of students crossed the line with her on the Eastern Shore—the same students Delk had refused to speak to the year before—she was willing to speak where she hadn't before when school resumed in the fall.
Women's Day.
Delk was graduated from seminary the next year with a clear agenda: return to the Convention of the South to serve as a Christian educator. Rev. Alston helped find her a position at the First Congregational Church in Atlanta. Most of her activities—Sunday school, youth groups, and other programs—took place in the church basement, and it was while she presided there that Delk received her next gift: She found her voice.
First Congregational Church loved holding Women's Days, and hosted them with a full slate of activities. On one particular Women's Day, because of a mix-up, no one had picked up the keynote speaker. "Well, these wonderful women with prestigious careers panicked about what they were going to do about a Women's Day speaker," recalled Delk. "I'm teaching in the bowels of the church when down comes this cadre of women saying, 'Miss Delk, we would like you to be our Women's Day speaker. Since you are the new staff here, we thought this would be a wonderful time for you to talk about yourself and to tell us about your ministry.' Whereupon they slapped on me a corsage that covered my entire left side and let me contemplate what I would offer for the morning worship service of Women's Day. I had 15 minutes to prepare."
"From the moment I stepped into that pulpit the Spirit was present and God spoke in a mighty way. When I finished people stood up and applauded. This was on 15 minutes notice you know, but God was in the word. I became aware of my ability to speak in a way that moved and motivated people, that communicated with their hearts." The boundary of the basement was beginning to crumble.
What the world was ready for?
Two years later Delk moved from the prosperous African-American Gold Coast Church in Atlanta to the German evangelical First Reformed Church in Cincinnati, from the knee-deep plush carpets of black newspaper owners and doctors to the decaying mansions of beer barons on Cincinnati's West Side. It was a neighborhood in transition. Poor Appalachian whites and Southern blacks were moving in.
The First Reformed pastor was white. The musician was white. The church used German hymnals, and its stained-glass windows were dedicated to old German families. The senior pastor called Yvonne because he had a vision for an interracial church. But in the four years she was there, the church school and the youth ministries became all black. The Sunday worship dwindled to a small group of German whites and a few new black families. As hard as the staff struggled for an inclusive church, it was clear that in the end First Reformed would be a predominantly African-American church.
It was between 1965 and 1969. First Reformed was the only African-American church in the UCC's Ohio conference. Well-meaning whites who genuinely wanted to deal with race issues came there to worship, to help in work camps, to donate food and clothing. They wanted to experience the inner city. But one day, kids from the neighborhood told Yvonne that they were "tired of those white people coming down here looking at us as if we are in the zoo."
"I knew what it felt like to be vulnerable, when I felt on display, and I knew we would never build race relations on that model," recalled Delk. "As long as the whites were coming to offer something to this situation that was deficient in some way, it fostered the feeling that we were the objects and they were the subjects. It wouldn't work."
Martin Luther King's death in 1968 was a critical catalyst for change. After his assassination, the whole neighborhood exploded. "You could hear kids taking to the streets in anger; their shouting bouncing off the apartment buildings, 'Martin is dead.' Folks started saying, 'Whitey go home. We don't need you here teaching this stuff. We don't need you here watching us.' The events forced the hardest conversations Delk has ever had, as the white staff struggled with the question of whether, after 10 years, it was time for them to go. They were never able to bridge that pain.
Delk felt she had failed the vision. The March on Washington was Martin King's call for integration, not for nationalism and separatism. That which had propelled her to be part of an interracial staff was that which, as events unfolded, pulled the church further apart. In the end, they had to abandon the vision. It was a painful moment of redefining boundaries.
Delk left First Reformed the next year for a position as Secretary for Urban and Black Church Education for the UCC Board of Homeland Ministries in Boston. After her initial preaching experiences, she sensed she had limited the boundaries of her ministry. She had to ask herself whether she had internalized limits based on what she thought the world was ready for. "I had to say to myself, as I have said to many women since then, you don't wait for them to get ready for you. You step in the fullness of God's gifts and you let God make a way."
Say it loud.
"From the time my eyes were opened and I could embrace the beauty of who I was, and I was able to release all of the negative images of Tarzan and the natives, the indignities by which this country tried to justify the inhuman act of slavery, I had a longing to go to Africa, to step on the Mother Land for myself. I didn't want anybody else to do it for me."
In the spring of 1970, Yvonne Delk spent four months in Sierra Leone, Liberia, Ghana, Kenya, Tanzania, and Ethiopia. In a huge church in Ghana, parishioners brought her to the pulpit with the singing bands dancing around her. Embracing her, they said, "This Sunday morning we welcome back our daughter who has been living in the United States. The only reason she's there and we're here is because our great-great-great-grandfathers ran faster than hers did. Our daughter has come home."
She wanted to hear the talking drums, to hear songs in the native language. So they took her to a village where Ashanti sisters were waiting. They taught her how to sing with the choir of drums. Then they asked her to teach a song. She taught them "Oh Mary, don't you weep, don't you mourn; Pharaoh's army got drowned. Oh Mary, don't you weep." She sang, then the drums picked it up, then everyone started singing. The melancholy harmony echoed in the hills.
At the University of Ghana in Legon she learned to wrap her hair with bits of cord like her great-grandmother had done, and how to wear African dress. She talked with students about her hero Kwame Nkrumah and the Pan-African Movement. She spoke in front of hundreds of kids at a high school assembly, saying, "I come with a word from James Brown—'Say it loud!' They shouted back, 'I'm black and I'm proud!'" Everyone around her was black. "In the so-called United States of America, I was a minority. But when I stepped on that African ground, I was among millions who were the majority."
Four months later Delk was ready to resign her job and return to Africa to teach. But Rev. Alston told her she couldn't leave, that she had to bring her gift back home. That is when her grandmother came back to her—Grandma Julia Anna Delk, the Rev. Julia Anna Delk, who at the turn of the century answered God's call to ministry and got used in a mighty way. It was time to move from commissioned lay worker to ordained minister.
Staying power.
In 1974, Delk became the first African-American woman to be ordained in the United Church of Christ. "When I announced to my family that I wanted to be ordained, my mother just smiled as if to say 'Well, I just wondered how long it would take.' The ordination was such a big moment in the life of our church as well as for me. There was such a sense of pride in the African-American churches here in Norfolk that I had taken this step. I learned that ordination is not about setting apart but about setting within."
"I wanted so much for my grandmother to know I had said yes to God. It was unusual for a woman of her day to be a mother of three and to go into the ministry as well. But she rose quickly in the First United Holiness Church in America as one of its outstanding women. She not only pastored, but headed the First United Holiness Women's Missionary Society."
Yvonne Delk stands in a circle of women who anoint her, push her forward and, like her great-great grandmother, speak to her through dreams. One night, not long before her ordination, she dreamed she was surrounded by her grandmother, Julia, and mother, Cora, Mary McLeod Bethune, Sojourner Truth, and Mother Tatnall, a woman who had been called into ministry by her grandmother. "There was a powerful light emanating from these women to me. In my dream they were all my age at that time, as if to make it clear that I was a part of each of them and they were a part of me. I just thanked God for this clearest revelation that the power of these women was in me, authorizing, calling, affirming my gift of ordination." These are all women who lived beyond the boundaries, a place Delk also lives, because she knows that in the world as God intends, the community is not broken by race or gender.
"I grew up in a society where I knew I could not count on white America to move in the interest of me or my family, where I could not envision a white person ever sitting at my table. But the gospel of Jesus Christ says the community is never complete until all of us are there. I had to figure out how to step toward that community in a way that wasn't based on the pain of the past or the deep wounds that I feel. It had to be based on something that would let me stay."
"The gospel's call to a new community is not based on whether or not you honor me. If it is based only on that, then I'm eventually going to walk away," she continued. "The staying power comes from my belief that I'm called to be in relationship. I can't be wishy-washy about it. I can't let picking up the newspaper and seeing that black people have once again been slaughtered someplace like Jasper, Texas, deter me from my goal. It has got to be a binding covenant relationship."
There is a balm.
In 1999 Delk celebrated 25 years of ordained ministry and turned 60. She is freer now than she has ever been. Free from the shackles of having to prove anything to anybody.
It can be hard to be a "first," and Delk has a long list of "firsts": the first black woman to be ordained in the United Church of Christ and first woman nominated to be president of the denomination; first woman and first black executive director of the Community Renewal Society, a 114-year-old Chicago urban mission agency. In 1979 she received the UCC's Antoinette Brown Award given to a senior woman and a younger woman in ministry and in 1994 the YWCA's Sojourner Truth Racial Justice award.
Delk has invitations to teach in Africa and is building a resource network for black women in ministry, but the scripture passage that has chosen her in retirement is simply, "Be still and know." She's gone back to reading Toni Morrison's Beloved, especially the scene describing The Clearing where, as Morrison writes, "Baby Suggs said, 'Let the children come!' and they ran from the trees toward her. 'Let your mothers hear you laugh,' she told them, and the woods rang." For Yvonne Delk, her Clearing is beginning to unfold. She is learning to listen with attention and clarity. She's learning to celebrate the younger ones who are coming up. It is the world as God intends.
Delk is listening to jazz now. On Wednesday nights she goes to hear Connie Parker sing at a little club called The Painted Lady, named after a boat that used to move through the Norfolk waterways. She's also going back to the spirituals, to the original Fisk Jubilee Singers. Her nieces are introducing her to Kirk Franklin and Nubian Nation. "They see their ancient aunt, born in the '30s, is now home. Music is a good bonding thing for us. We are building a bridge from where I have been to where they are."
The evening sun spills like honey on the harbor. A breeze picks up and sends the chains on the Long Island clinking. Birds scavenge around fishing boats heading home for the night. So we end where we began, nearly.
"I was at the Hampton Institute the other day with my brother," she says. "We were remembering when he graduated from there in 1958. Graduation was held in the chapel built all with the labor of slaves, the blood, sweat, and tears of a people yearning to be free. It has no nails in it. The choir sang, 'There is a balm in Gilead to heal the sin-sick soul. There is a balm to make the wounded whole.' You know, you can't travel this world without some wounds. It is a wonderful thing to know there is a place where you can surrender all, and feel the power of the music giving you permission to flow the boundaries."
Rose Marie Berger is an associate editor of Sojourners.
For more on Yvonne Delk and her work see:
A Time For Action. Building a strategy to dismantle racism. Yvonne Delk. March-April 1998 (Vol. 27, No. 2, pp. 25). Cover.
Call to Renewal -Yvonne Delk serves on the board of directors for this network that provides leadership and organizing support to local communities. Look here for more about the Pentecost to Overcome Poverty.
A Different Christian Politics. Inspiring the faithful to be the "moral locomotive for social change.". Duane Shank. November-December 1996 (Vol. 25, No. 6, pp. 46). Call to Renewal.