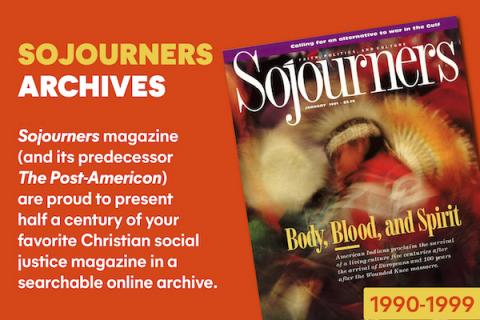 Evangelical and ecumenical have been terms unfortunately divided. The "evangel" is the uniter. The "good news" of Jesus Christ should be that which draws God's creatures and God's church together.
We evangelicals have too often used the term as a badge of identity that distinguishes us from others and other Christian traditions. The ecumenical movement, on the other hand, has been primarily a Protestant mainline gathering, often with something less than appreciation for evangelicals.
A case in point: As Drs. Ray Bakke and Bill Leslie and I founded the Seminary Consortium for Urban Pastoral Education (SCUPE), we envisioned a consortium of seminaries representing the broad spectrum of Christendom. There was pain in the experience as the president of a mainline seminary decided to educate us with a kind of haughty air, saying, "You must understand that we come from the fine tradition of 19th-century liberalism and thus have no truck with evangelicals."
When later we did achieve his presence at an organizing meeting, the representative of a well-known evangelical seminary stood with flushed cheeks to tell the assembly that his evangelical credentials hardly permitted him to sit in the same room with liberals.
My hope and my prayer is that ecumenism is healing this unnatural divide.
In the decade of my staff position with Young Life, and in the denomination of my birth and ordinationùthe Christian Reformed Churchùthe discussion of differentiation between word and deed was often more like hot debate than discussion, and too often the debate raged as a means of avoiding the obligations of social justice action. Too often social justice action is judged by evangelicals to be a liberalization of the gospel, and is thus unattended.
My hope and my prayer is that ecumenism is growing in the trenches of social action and justice.
MidAmerica Leadership Foundation, the ministry with which I am associated, has the pleasure of participating in and sometimes coordinating ecumenical activity throughout greater Chicago. This work takes place with energy and enthusiasm in urban communities. It is done out of survival necessities and a blurring of denominational distinctions.
A SNAPSHOT OF the past week in my ministry illustrates the point of ecumenism in the community. Early in the week, managing partners of Vision Chicago met to plan the budget and apply priorities. Vision Chicago is a partnership of parachurch and church groups as diverse as the 17,000-member Willow Creek Community Church, 50 urban congregations (some with as few as 17 members), World Vision, several large Christian community development agencies, and city and county government departments. The Vision Chicago motto is "Partnerships that rebuild communities."
The ministry of this partnership includes evangelism, housing of the poor, job placement, commercial development, education, and social services, all in the name of Christ. The tensions resulting from a variety of expected results, corporate values, cross-cultural communication, and scale run high. Occasionally it feels like we will not hold the partnership together. However, mutual respect and common allegiance to Christ keep Vision Chicago going and growing.
In a meeting with the St. Agatha parish, Father Matt Eyerman described their SAFE program for children. "Kids and their parents tell us they are Baptists, Pentecostals, Lutherans, and independents, and we are pleased that they identify with a church. The church membership isn't important; what counts is that these kids grow up with quality life opportunities knowing Jesus Christ."
Later in the week, 25 leaders from many cities came together to plan and covenant the "Redeeming of the Cities" initiative through Christian community development. They claimed 1 Corinthians 3:9, "We are co-laborers with God," and John 17:18-21, "May they be one...so that the world may believe that you have sent me," as their guides for meeting and mission.
As I looked around the room, I saw Lutherans, Calvinists, Episcopalians, Methodists, Missionary Baptists, Pentecostals, Church of God in Christ members, and independents, but no one was placing emphasis on the denominational distinctions. All focus was on building the activity done mutually in the local neighborhoods.
On Friday, I received a call reminding me that an action on state-level legislation was being organized by Protestants for the Common Good. The message was, "We need to cooperate for the benefit of the poorest residents in our communities."
The tensions and struggles in community-based ecumenism only rarely arise overtly over theological traditions and fences. More likely, the struggles are: "They who are rich and white are trying to control us"; "They raise all that money and we get only a pittance for our congregation." Most often, however, we struggle together with the need for resources, and with the fact that our impoverished communities are being decimated as local leadership, mainline and evangelical churches, and businesses with their jobs exit our communities.
As the World Council of Churches, the National Council of Churches, and denominations restructure and downsize, a new vibranceùa mission intertwined across old distinctive gapsùis being played out in the communities of our nation's cities. God is praised.
BUD IPEMA, associate pastor of Lawndale Christian Reformed Church on Chicago's west side, is president of MidAmerica Leadership Foundation in Chicago.