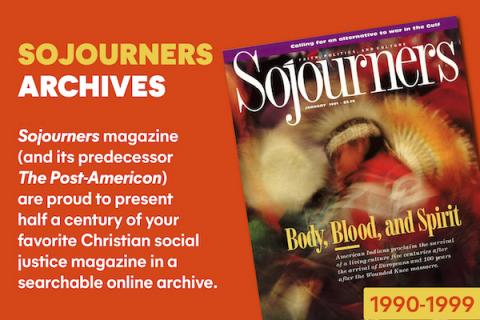 Jim Wallis has done an outstanding job of describing the new ecumenism that is fostering dialogue among black, mainline Protestant, Catholic, evangelical, and Pentecostal churches. I'd like to assess the impact of this movement within the context of historically African-American churches.
The basic concept outlined by Wallisùthat denominationalism with its rigid hierarchical structure and top-down management style is giving way to a grassroots, horizontal method of relatingùis accurate. However, this is not a new phenomenon in the black church.
The civil rights movement of the late 1950s and early 1960s had at its center a warfare within the black Baptist denomination. Dr. Martin Luther King Jr. began his rise to prominence within the National Baptist Convention before national attention was drawn to him through the Montgomery bus boycott. In fact, King was the product of a family with deep roots, visibility, and power in this largest and most influential black denomination. With the onset of the Montgomery bus boycott, King sought to develop the National Baptist Convention into a vehicle that could give religious leadership to the struggle for justice in the way that the NAACP provided secular guidance.
King's dream was not to be realized as denominational politics found him in a titanic struggle with the president of the National Baptist Convention, Dr. Joseph H. Jackson. King was eventually banished from the Convention, and he and his supporters founded the Progressive National Baptist Convention, a group that is chartered to do justice and address issues of civil rights.
As this hierarchical drama played out, an interesting development occurred. Black churches all over the nation took absolutely no heed of President Jackson's sanctions of King. In places as widely divergent as Mississippi, Georgia, California, and Pennsylvania, Baptist churches, African Methodist Episcopal churches, Presbyterians, Lutherans, and Catholics were energized to join the movement. A true grassroots organization was formed.
A similar phenomenon occurred within the largely white denominations. Judicatory heads, for political reasons, expressed their ambivalence about the movement through their inaction, while thousands of men and women in congregations ignored their leadership and joined in freedom marches, bus rides, and other demonstrations.
THE QUESTION ALL this raises is, Why, if grassroots ecumenism within the black church has existed for the last 40 years, has there been a reluctance among blacks to identify with the new movement among white churches? The answer probes the depths of the deeply tangled reality of race relations in America.
Although there has been a much heralded apology issued by the Southern Baptist Convention for its stance on slavery, and the evangelical group Promise Keepers has covenanted to make racial reconciliation a major thrust, there remains a deep distrust within the black community about the purity and sincerity of their motives. There is a feeling among many blacks that apologies without tangible restitution of stolen resources and energies is just sounding brass and tinkling cymbal, signifying nothing.
The question of race to most blacks is deeply emotional and passionate. The ease with which white evangelicals and mainstream Protestants can agree to bond or disagree, depending on the issue involved, is not an option for blacks, who cannot pull off their skin on demand. When evangelicals fervently argue against the abuses of welfare queens in Cadillacs or promote a family value system that is dependent upon sufficient resources to ensure two-parent family stability, blacks hear such assaults as naked, blatant attacks on the very being of race. One cannot easily dismiss such vitriolic, seminal attacks and bond with their perpetrators out of political expedience.
For blacks to become unequivocally a part of the new grassroots ecumenism, the issue to bring them to the table will most assuredly be social justice. Conversations on race, pulpit exchanges, and collaborations on projects have all been tried, with little tangible results. Talk is cheap. What black America is looking for from its evangelical, mainstream Protestant, Catholic, and pentecostal brothers and sisters is a commitment to total and complete social equity, and total and complete economic justice.
WALLACE CHARLES SMITH, senior minister of the historic Shiloh Baptist Church in Washington, D.C., serves numerous ecumenical and civic associations and is the author of The Church in the Life of the Black Family (Judson Press).