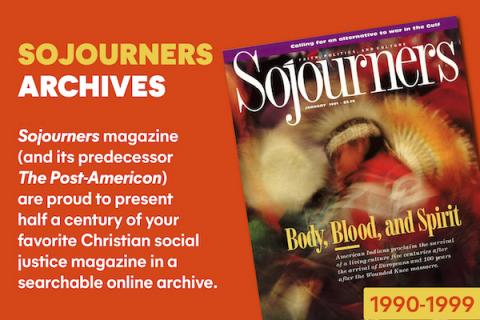 The television image of Archbishop Desmond Tutu hugging his former critics and adversaries is a familiar one. Tears and the emotional trauma of mourning, anger, and repentance are now an indelible part of the public image of the South African Truth and Reconciliation Commission (TRC).
Reconciliation, however, is more than sentimentality. It involves more than tears. It is never cheap. It is something that needs to be earned. It can never be assumed. It takes time. This inclines some to balk at the emotional words associated with public apologies. The relatives of those killed in the Bisho massacre in the former Ciskei homeland, however, wept in response to a plea for forgiveness by a colonel responsible for ordering the fatal shooting.
Brigadier Marius Oelschig, the officer commanding the operation, responded differently. When asked whether he regretted the event, he noted that "soldiers do not display emotion in public." "At least Oelschig is consistent—and perhaps more honest than some," responded a seasoned journalist listening to his words.
At a subsequent hearing, Brigadier Oupa Gqozo, the former military ruler of the Ciskei, was encouraged by a commissioner to turn and look the survivors and relatives of those killed in Bisho in the eye. He apologized in an emotional scene. Brian Mitchell, the former police officer who planned an attack on United Democratic Front activists at the Trust Feeds settlement in the Natal Midlands, made an impassioned plea for forgiveness, pledging himself to work for the rehabilitation of the community that he had violated. It is important to say mea culpa.
Truth is more important than contrition
The TRC Act does not require anyone to be repentant or to apologize for their past actions. What is required is that amnesty applications fall within the ambit of the TRC Act—essentially that the deed for which amnesty is required be politically motivated and that full disclosure be made. In the words of the archbishop, "You are able to tell the amnesty committee that you are proud of what you did, albeit that it constitutes an offense under law."
There are many moral arguments—not least theological ones—that make the case for favoring contrition an appealing one. In their much publicized book, Reconciliation Through Truth, co-authors Kader and Louise Asmal and Ronald Roberts argue, "If the Commission is of the view that a contrition requirement would advance the stated goals of reconciliation and national unity...[it] has ample statutory discretion to impose a contrition requirement in its amnesty procedures."
At the same time, contrition is something that is difficult to impose. It smacks a little of medieval notions of a horsehair shirt. The question, at best, implies a rather idealistic notion of what can be accomplished within the time con-
straints of the TRC. At worst, insistence on an apology could inhibit some of the more resolute and proud perpetrators from making a disclosure, undermine the integrity of disclosures that are made, and hide the deepest convictions of those responsible for past gross human rights violations.
There is, understandably, a reluctance among some victims to forgive at all. Chris Ribeiro, the son of the murdered Florence and Fabian Ribeiro, objects to anyone "pushing reconciliation down my throat." Marius Schoon, who lost his wife and a daughter in a South African army raid into Botswana, complains about "the imposition of a Christian morality of forgiveness."
FORGIVENESS, EVEN when possible, is rarely a first step. It does not occur in a vacuum. It is perhaps inevitably preceded by simple coexistence—a willingness to accept the existence of the other. It is here that the work of the commission is focused. Bluntly stated, what the TRC Act calls "peaceful coexistence," governed by a culture of human rights and the dismantling of the structures that made human rights violations not only possible but often inevitable, is perhaps more important, at least for the present, than forgiveness and reconciliation.
It is not important that we all agree on all matters. It is important to ensure that we all treat one another in the best possible manner—that even if we are not fully reconciled to one another, we do not kill one another. It is important that maximum space be created within which dialogue, mutual reciprocity, and open encounter can take place between those who disagree. This can lead to mutual understanding and the affirmation of a common set of values, whereby people who disagree can live together.
It is here that the TRC can make a contribution, applying its energy to obtaining full disclosure, rather than trying to achieve the quick reconciliation of adversaries. This involves dealing openly with the harsh realities of the past in an honest manner. Donald Shriver's words in his book An Ethic for Enemies are compelling: "One does not argue long with people whom one deems of no real importance. Democracy is at its best when people of clashing points of view argue far into the night, because they know that the next day they are going to count and encounter each other as residents of the [same] neighborhood."
This much the commission must accomplish:
The fullest and most complete disclosure of past gross human rights violations. Victims are demanding the right to know what happened to their loved ones. The structures of "third force" and other forms of terrorism need to be disclosed.
Acknowledgment of past atrocities involves more than cynical non-believers being confronted with what victims knew all along. Juan Mendez, past director of Americas Watch, suggests it involves "knowledge that is officially sanctioned, and thereby made part of the public cognitive scene."
The notion of truth is a complex one. There are at the same time facts which, however explained or interpreted, need to be acknowledged. People were murdered, maimed, and brutalized for little more than their political views or the color of their skin. Disclosure serves as an antidote to any attempt by revisionists to portray apartheid as no more than a desirable policy that went askew.
Preparation for the reintegration of perpetrators of gross human rights (whether members of the former state or of liberation movements) into society through the amnesty process. The purpose is to facilitate their reintegration into society, rather than allowing them to be a burden to the taxpayer either by languishing in prison or by continuing to undermine the political and social well-being of society. Any attempt at doing so that bypasses the need for full disclosure can only lead to political subterfuge and the ever-present possibility of social upheaval, associated with each subsequent disclosure of past wrongs.
An authentic historical record of human rights abuse, not least as a basis for assisting future generations to defend democracy and the rule of law in the face of any future attempt at authoritarian rule. It should warn against any ideology or practice that denies human rights, dumps human beings in resettlement camps, consigns soldiers to morally indefensible tasks in townships and foreign countries, sends agents of the state or guerrilla fighters on bombing sprees, tortures and kills people in detention centers, or eliminates people in prison camps. The exercise should serve as an ever-present reminder of what the human race—even "our people" (on whatever side they may be)—are capable of doing.
A penetrating and empathetic understanding of the "motives" and "perspectives" of perpetrators, as required by the Act. This could be the most effective way of pre-empting the reoccurrence of those forces that gave rise to the human rights abuses of the past. Bluntly stated, unless all South Africans are ever watchful for those powerful human forces that destroy and annihilate the other, we stand vulnerable—perhaps even likely—to create a monster again, or simply allow it to grow slowly to maturity, with all the power to kill.
THE TRC CAN MAKE A contribution to "establishing as complete a picture as possible" of such and related matters. More difficult is the task of reconciling the armies of liberation movements, South African Defence Force (SADF) soldiers, South African Police (SAP) operatives, and the rank-and-file members of conflicting parties. The fulfillment of this mandate is, however, perhaps best served by laying the foundations for a much longer process. Civil society, religious communities, educational structures, and similar organizations have an important role to play in this regard. They will exist long after the TRC has ceased to be.
The reconciling energy of the TRC can best be employed in making recommendations to the president concerning how past alienation and suffering can be redressed and on how to protect and promote human rights in the future. This requires careful attention to reparations policy and the need for the creation of a society within which former enemies can cooperate in the creation of a "new" South Africa.
It is unrealistic to expect the leaders of liberation movements and the commanders of liberation armies, who believe that their cause was a just one, suddenly to repent of their convictions. It is also unlikely that all leaders and members of the National and Conservative Parties, or former SADF and SAP commanders who defended apartheid, will repent of their ways. The law governing amnesty does not ask for this. It does require those applying for amnesty to make full disclosure.
For many, not least those who are victims of gross human rights violations, this is not enough. Contrition and repentance are regarded as a basic minimum. Reality, however, requires us to settle for less.
Full disclosure can provide a political basis for coexistence. This is important. It can provide a context within which national and personal reconciliation can later happen, recognizing that this is a costly exercise that requires perpetrators and indeed the entire nation to share in restorative action. Reconciliation has huge economic implications, as well as social, cultural, and related dimensions. It is a task for which the TRC can do little more than provide a kick start during its two-year mandate.
The cost of reconciliation
It does not, of course, follow that truth necessarily leads to reconciliation. The truth can be so horrendous and soul-rending that survivors and relatives of those killed are driven to seek revenge. Truth needs to be carefully handled and often gently told. Therefore, true reconciliation takes more than truth-telling. Simply to tell you I stole your bicycle—let alone that I killed your child—and do no more about it does not lay a firm foundation for reconciliation. Certain tried and tested theological steps are necessary to accomplish this:
Acknowledgment or confession of the truth.
Contrition and repentance (a willingness to live a different kind of life).
A willingness, where possible, to make restitution or reparation for past wrongs.
The extending and receiving of forgiveness.
Some remarkable people are able to forgive at a personal level without requiring the kind of restitution that others demand. Instances of a willingness to forgive and be reconciled (epitomized in the persons of President Mandela, Archbishop Tutu, and many lesser known people who have appeared before the TRC) are important in the national reconciliation process.
The political pact between the power elite of the former government and ANC leadership (which led to democratic elections, the establishment of a government of national unity, and a measure of political reconciliation) was, in turn, an imperative ingredient in the process that brought apartheid to an end. For broad-based national reconciliation to occur, however, some measure of restitution is necessary—the victims of apartheid need to experience a sense of being both stake holders and material beneficiaries in the national reconstruction process. This requires the nation as a whole, and the beneficiaries of apartheid in particular, to give urgent attention to structured and orderly economic and material redistribution. The work of the Land Commission and many of the ideals captured in the government's Reconstruction and Development Programme are examples of what is needed, in an accelerated form.
Mahmood Mamdani, a professor of African Studies at the University of Cape Town, suggests that for true reconciliation to happen the nation's attention needs ultimately to shift from a focus on perpetrators (which the TRC Act defines as those either directly involved in killing, abduction, torture, or severe-ill treatment, or those who attempted to commit such acts) to a focus on the beneficiaries of apartheid.
This is clearly an important dimension of national reconciliation work, although it is not within the mandate of the TRC, nor is it within the capacity of the TRC to accomplish the kind of reconciling work that is required. To suggest it can is to cheapen the very meaning of reconciliation. For the TRC, however, to fail to recognize the extent of the social and economic readjustment needed in order to ensure true reconciliation could be interpreted as a dereliction of its moral responsibility and a failure to take seriously its legislative mandate—which is both truth and reconciliation.
The task of the church
A submission by the South African Catholic Bishops' Conference to the Minister of Justice prior to the establishment of the TRC alluded to the above concern by suggesting that "while the state may have to bear the major financial burden of compensation for victims, thought should be given to asking the perpetrators of crimes to contribute to reparations. This could include direct compensation to victims, contributions to the Reconstruction and Development Programme or community service where feasible." It is clearly important to broaden this responsibility to include not only direct perpetrators but also those who passively benefited from the fruits of apartheid, those who tacitly supported the system, and those who simply chose to look the other way when gross human rights violations occurred as a means of sustaining the status quo.
The task facing the church in this regard is enormous. The gospel is clear on what is involved in economic justice. Mainstream theology, in turn, emphasizes the economic implications of the common good. The question is whether the nation and indeed humankind as a whole—above all those who enjoy economic sufficiency—have the will and moral capacity to do what is required to ensure that the poor have an adequate share of the nation's resources. The institutional church's liturgy, lifestyle, and message to the nation (judging by the average Sunday sermon) do not equip it well to do so.
The defining characteristic of South African politics and identity is transition. Change needs also to determine the thinking of the mainstream churches, no less than the nation. Only then can it begin to contribute to national healing. Otherwise, the institutional church is likely to become increasingly irrelevant to the nation-building process.
CHARLES VILLA-VICENCIO is national director of research for the South African Truth and Reconciliation Commission.