This issue of Sojourners is sponsored by the good folks at Procter & Gamble, makers of a respected line of consumer products, including their popular fat substitute, Olestra, which may cause severe abdominal cramping, diarrhea, and other as-yet unspecified leakages. Company representatives insist, however, that Olestra can be an effective part of a balanced diet, if used in combination with another fine P&G product, adult diapers. Satisfied customers have been quick to endorse the idea:
SATISFIED CUSTOMER NO. 1: Yep. I ate those Olestra chips while I was watching the Super Bowl. And I never had to get up once. It was great.
SATISFIED CUSTOMER NO. 2: Me, too.
Because of the reported side effects, officials at the Food and Drug Administration planned to withhold approval of the controversial food additive. But at the last minute new scientific evidence was provided by an Asian businessman, who was apparently quite persuasive. It's just another American consumerism success story. (Possible title: "Well, I'm back. By the way, you're running out of toilet paper.")
Is this a great country, or what?
No thanks, Dr. Kevorkian. I feel fine...
Physician-assisted suicide is a serious issue that should be considered with the utmost sensitivity.
But not on this page. No, our job is to take nothing seriously, particularly a subject as easy to goof on as Dr. Jack "I'm Sorry, But Your Time Is Up" Kevorkian.
DR. KEVORKIAN (visiting a randomly chosen patient in the hospital): How are you feeling today, young man?
PATIENT: Fine, Doc. I just sprained my ankle playing Frisbee with the dog.
DR. KEVORKIAN: I understand. You're in a lot of pain, aren't you?
PATIENT: Not anymore. I was at first, when I tripped on Rusty. He's my dog. But I'm feeling a lot better now.
Read the Full Article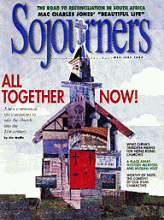 ​You've reached the end of our free magazine preview. For full digital access to Sojourners articles for as little as $3.95, please subscribe now. Your subscription allows us to pay authors fairly for their terrific work!
Already a subscriber?
Login