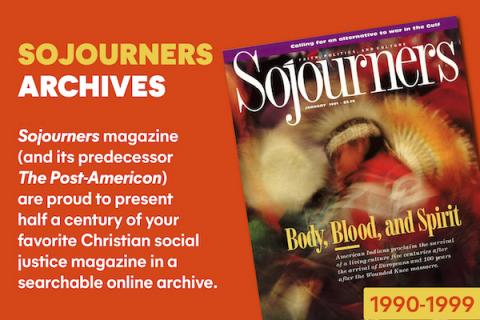 M y son Daniel asks me when he will have a bar mitzvah like our friend's son. The Baptist neighbor's daughter asks when she will get her First Communion (and the family celebration that follows it). A student at the university shares with the class that he was never baptized, and the class, representing many different Christian churches, has a myriad of responses about the rite and role of baptism. A young woman of color introduces herself as a pentecostal woman being raised up as a prophetess to a graduate class in sacraments at a Catholic university. Messages flash across my computer screen from different peace groups--Catholics working on the peace tax fund, Mennonites working on conscientious objection--as part of an online peace studies network through Pax Christi USA.
Perhaps not all the questions of this "new ecumenism" are new, but the responses of both individuals and institutions are. The transition is not only from vertical to horizontal patterns of relationship among us, but from linear to circular as well. From "who was here first" and "who owns the history" in a model of scarcity and competition (as if there isn't enough grace to go around), to the charism of "roundness"--the embracing circle of community that Jesus left as legacy, acknowledging the giftedness of difference within the Christian community. Within the Catholic community, I think there are many factors working toward this roundness, and I feel great hope in what seems to be evolving.
ONE FACTOR THAT IS a sign of hope is that at the grassroots level, at the local church and neighborhood level, the defensiveness that is vertical and hierarchical in nature seems to be dissipating. We are a messy people, us Catholics; Jim Wallis refers to us as a "bridge constituency," but living as part of that bridge is very messy business. It means we find alliances with Christians on the Right and Christians on the Left, with rich and poor, with powerful and marginal; and that web of relationships, gift that it is, can also be a tangle of connections. It may not be so unlike some of the issues of the early Christians.
I see great openness in the Catholic community to the richness that is in the wider Christian community, in interfaith dialogue, in ministerial education, and in projects for children, for life, for the Earth, against violence. The messiness of our convictions finds us not so much defending our turf against others as helping to define the common turf of creation.
Another factor that builds this roundness and hope is that many Catholics at the local church level are very hungry to understand the varieties of Christian life and very willing to accept the differences. They want to know how other churches worship and how others understand the scriptures.
Even those who come to the Catholic Church seeking to be part of the community most often come open to how God has worked in and through their own experience of another Christian church, without the need to condemn what has been before in favor of what they are now seeking. That alone is a sign of the new ecumenism--it is not "up-against" energy, but energy moving in the same direction, the direction of the circle of Jesus.
A final factor of hope is also where I see one point of tension, and that is in my experience of young people. All of the baggage of the historical divisions between churches simply is not part of most young adult Catholics' experience. They have grown up in an ecumenical world where divisions between churches are dotted lines, not brick walls and ivory towers. Therein also lies the tension: the challenge of religious identity in an increasingly pluralistic world.
I come to ecumenical relationships with a history of who I am as a Catholic woman, with all the gifts and all the baggage of my faith heritage. Many young people are relatively unchurched; they are culturally aware of the general norms of being a Catholic Christian, but are not aware of the rich heritage that is also theirs.
This can lead to a great openness to other traditions (one that is often hard-earned among their elders). But a blurred identity can also lead for some to a kind of symbolic fundamentalism, a retrenchment into rites and holy things in order to define oneself as Catholic, rather than to claim what is most authentically Catholic--to be "part of the whole."
It makes the work of religious education such an exciting venture as we move into the 21st century. Can we pass on the heritage in a circular way that prepares young people for what lies ahead?
MARY CARTER WAREN is a professor of religious studies at St. Thomas University in Miami, an adult educator in local parishes, and national chair of Pax Christi USA, the Catholic movement for peace.