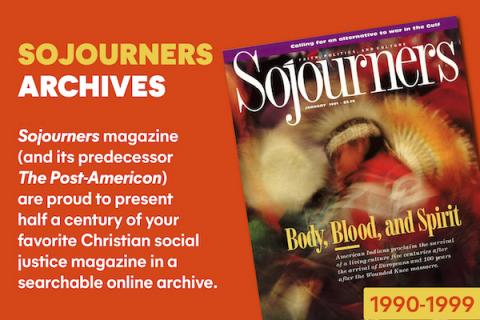 Creativity and spirituality are intimately linked: The place from which I create is the place I most closely touch God; the piece of God within us inspires us to create; the Source of all things is the finest and first artist. We all have many gifts to share-including a creative spirit-but some of us find our truest gift calls us to the arts.
Although a life as an artist is rich and fulfilling, it can also be hard and insecure. Heated congressional debates paint the arts as unnecessary, wasteful, and even unwholesome. To the contrary, the arts are an invaluable vehicle for conscience and commentary, linked completely with the personal, political, and spiritual. The arts enrich and define our communities, and thus are deserving of strong national support.
Artists spend much of their lives searching for the "great ah-ha," that piece of light or thought that comes from ourselves and sometimes from the divine. We then spend the rest of our time trying to put this inspiration into words, song, dance, paint, or other form. When a piece of the truth, a revelation, is discovered by the person experiencing the artwork, the communication is complete, and the light is endlessly passed along.
I struggle endlessly to balance the search for revelation and inspiration with the joy of work and the journey, as well as my personal need for expression with my desire to create something of benefit for the community. I read once that all of art is a huge lake, and that each artist is a tributary leading into it. Mozart, Shakespeare, and O'Keefe are the great rivers in history; their effect is grand and evident. But many other water sources fill the lake.
My job as an artist has nothing to do with whether I am a great river or small tributary. My work is staying true to my course and filling the lake. What a great job description: I'm searching for the great "ah-ha," and filling the lake.
GOD SPEAKS TO us, I believe, in the ways we are best able to listen. God has often spoken to me through my dreams. "Holy Ground," a song on my most recent recording, is written about a dream and a search. For several years I have been on a spiritual quest, looking for the true and inclusive teachings of Jesus. I have sorted through the ugly and mean-spirited message of the Religious Right and found both my strength as a female child of God and the feminine face of God.
One night I dreamt a woman came to me dressed in timeless, graceful white. Her hair long and unbound, she had a calm and unhurried presence. She offered me a wooden bowl filled with the Spirit of God. The Spirit was liquid and shimmering and moved like water. The beauty and motion of this Spirit amazed me. I was struck by the very non-static nature of God. I thought, "Surely if this Spirit were poured into a differently shaped bowl it would fit."
I looked to my side and a man offered me the Spirit of God in a book. Dressed in expensive, fashionable clothing, he offered a book that was large and old, dusty and parched. The man pushed the book at me and quite insistently said, "This is the Spirit of God, this is the right religion." The book and its pages appeared fragile and brittle. I realized that time and a good wind would surely blow this book away and scatter it as dust.
I turned to the serenely smiling woman. She neither spoke nor solicited. I walked back to the woman and took the bowl with its true spirit. I felt at peace. I woke from the dream feeling I had been given a simple but important message about the nature of God and my spiritual search. I wrote the song that day with a full and light heart.
Holy Ground
There's more to this than you, there's more to this than me
There's more to this than the sum of all its parts
There's more to this than I can just keep in my heart.
Chorus: There's a woman offering a spirit like wine
And a man in a suit who is trying to sell me God
Close your eyes, bow your head
Sing without a sound
Take off your shoes you're on Holy Ground
Holy Ground
It comes up from the earth, it comes right through my feet.
It comes down through my head and out my fingers.
It bounces off the back wall, it's sent out like a letter from you.
Lay down like a lion, lay down like a lamb,
Lay down in the dark next to me.
You can hold me,
Understand what can fold and unfold.
CARRIE NEWCOMER is a singer-songwriter and guitar player living in Bloomington, Indiana. Her most recent recording is The Bird or the Wing (Rounder Records, 1995).