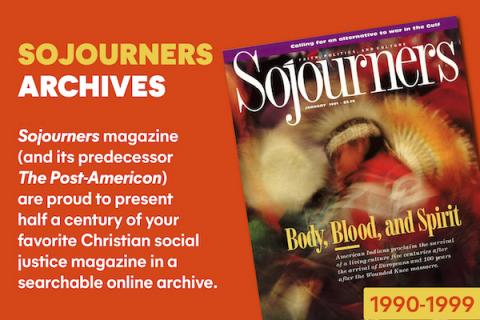 IN MY AUGHT YEARS (that time before teen-dom), somebody in my family left a hamburger on the stove, which proceeded to catch afire. The house didn't burn down, but the whole kitchen billowed with heavy grey smoke. The rest of the day was spent elbow-deep in grease-cutter, wiping down the walls and ceiling. That night I dreamt I was laying on a scaffold, sponge in hand, washing the ceiling when the whole kitchen was transformed into the Sistine Chapel: Before me spread Michelangelo's frescoes-acres and acres of them-all needing to be cleaned!
Even at such a tender age I seemed to have absorbed whole worlds of faith and art. Images still pour forth-a local potter, with his wheel set on the altar, throws an urn, while the lector reads, "Like clay in the hands of the potter, so are you in my hands, O Israel" (Jeremiah 18:7); the sound of bare feet scuffing and thumping on the wooden floor, as a dancer, arms akimbo, brings to life Ezekiel's valley of dry bones (Ezekiel 37); my father's voice rending the silence of a darkened Good Friday church, reading from Anthony Padovano's Dawn Without Darkness.
Beauty is essential to faith. It is, as Rilke says, "the beginning of terror" because it takes us to the precipice of God's burning passion and bids us "Jump!"
In one of the most beautiful pastoral letters ever to come from American Catholic bishops, the faithful are invited to take this leap of faith. In 1975, the bishops of Appalachia wrote a love letter in response to the cries of their people. This Land is Home to Me reads as an epic poem, taking us through the history of God's salvific action in the world and mirroring it with the history and art of the people of Appalachia. It reminds us that we must not only look at the faith life of artists, but at the artistic life of the faithful; it suggests (from Pope Paul VI's A Call to Action) the formation of "centers of popular culture" in every parish. The bishops' closing words anoint each of us as artists, advocates, and agitators:
In taking up [the weak things of this world],
hopefully the Church
might once again
be known as
- a center of the Spirit,
- a place where poetry dares to speak,
- where the song reigns unchallenged,
- where art flourishes,
- where nature is welcome,
- where little people and little needs come first,
- where justice speaks loudly,
- where in a wilderness of idolatrous destruction
the great voice of God still cries out for Life.